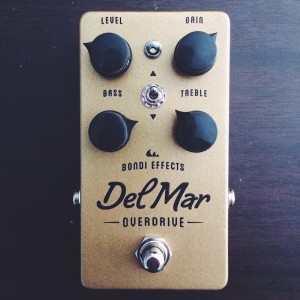 On tap today is the Del Mar overdrive – the latest offering from the awesome guys over at Bondi Effects, makers of the well-known Sick As overdrive. So what's all the hype about?
As many know, the Sick As is based loosely around the mystical Klon circuit, and works great as a clean boost/light OD without coloring your signal. Wonderful. The Del Mar takes two equally renowned circuits, the Tubescreamer and Bluesbreaker, and brings them together under one pedal to create something truly fantastic.
So here are the facts: 4 controls, 1 toggle switch, internally boosted to 18v for more headroom and clarity (we'll get to this in a minute). The knobs are pretty typical, volume, gain, bass, and treble. The two tone knobs are capable of 15 dB of boost or cut, which means you can actually here a difference as you fiddle around with them instead of guessing how much bass there is or how much chime you need. In the past I've opted for three-knob style drives because I hated messing with the bass controls (mostly because I didn't know what I was doing), but also because I never knew how much or how little was supposed to be there. The Del Mar is so responsive that you always are aware of where your bass and treble are and need to be. Sweet spots are so easy to dial in with this thing.
Let's talk about that toggle switch. The up position is your screamer style sound, more compressed and middy, but still clear and articulate. Flip it down and you'll get a significant volume boost, tighter bass and more defined highs, and a generally more open sound. This is where that internal boost to 18v really makes a difference. It honestly sounds so good. Personally, I prefer the Bluesbreaker (flipped down) position simply because I like less mids in general. Think of it like this: if you dialed in a nice light drive for a blues tone, the up position would get you into SRV territory and the bottom would get some Mayer stuff happening. Oh, and I forgot to mention that ALL of the gain is usable. All of it. No weird overtones or harmonics that muddy things up. Just awesome, smooth, powerful gain. It's so clear and articulate even when blasting the preamp.
So yes, it's everything people say it is. And more. You seriously wouldn't need another overdrive other than this. If you haven't found that exact overdrive sound you've been looking for, it's somewhere inside this pedal. Promise.
Specs:
Clean Booster/Overdrive
Very dynamic and natural, responsive to your pick attack or volume knob.
Gain knob serves a dual purpose as a blend control between clean boost and overdrive, and controlling the amount of gain
Internally boosted to 18 volts for maximum headroom and clarity
Two classic soft-clipped voices of natural tube-like overdrive!
Powerful active tonestack, capable of 15dB of boost or cut!
Soft touch bypass switching
Current Consumption 20mA
Submitted by James R, Instagram, Twitter
More info at:

GET EXCLUSIVE UPDATES, CONTEST INFO, SEE OUR LATEST DEMO VIDEOS AND MORE: