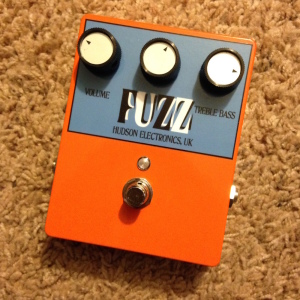 Hudson Electronics in the UK are all about the Fuzz. Really, these guys make retro-styled fuzz pedals for fuzz players, and that's it. And boy, do they do them well. I was lucky enough to get a couple sent my way to review, and I have to say I was pleasantly blown away by the sounds these guys are generating. Today, we're going to take a look at a pedal they like to simply call FUZZ.
This pedal is based around fuzz circuits from the late 60's and early 70's, and has an extremely wide range of fuzzy sounds it can produce. First off, the fuzz is always on: you can control how much comes through your amp with the Volume knob, but you're not going to find any kind of clean boost in this bad boy. The only other controls are a Treble knob and a Bass knob, and the amount of differing sounds you'll come across from these 2 simple knobs is nothing short of astonishing. Crank up the Bass and dial back the Treble for a gritty, low-end journey back a few decades, then slowly add in more and more Treble to your liking until you find your sound. And you will find your sound, trust me. This pedal is so versatile in the fuzzy arts, if you can't find a setting you like, you're doing something wrong. Roll back the Bass knob and max the Treble, and you'll get a high-end ear scrambler that's just perfect for cutting through any mix, and maybe ever offending the couple wearing sweaters in the front row of your gig this weekend.
This is just the epitome of fuzz right here; they really know what they're doing over at Hudson Electronics, and have a ton of great gear that's waiting to blow your house down. Clean layout, simple knob controls and all that your ears can handle – the FUZZ is a truly awesome Fuzz pedal right here. Thanks so much to Michael and everyone across the pond for letting me test out some of their gear – go check 'em out as well, and see what they've got in store for you!
Submitted by Mike B, Website
GET EXCLUSIVE UPDATES, CONTEST INFO, SEE OUR LATEST DEMO VIDEOS AND MORE:










More info at: