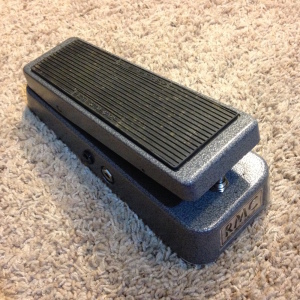 Geoffrey Teese just makes incredible wahs, hands down. Anyone who has ever played any of the numerous models he has produced over the last couple of decades surely knows what I'm talking about. A while back, we reviewed the RMC5 Wizard Wah, which was an awesome wah altogether, but today we have what a lot of players feel is the crowning jewel Real McCoy Custom wah: the RMC3.
One of the absolute most customizable wahs you'll ever see, the RMC3 comes roaring out of the gates with tone and quack. The stock setup sounds great, but once you open up the back plate and start to play with the internal organs of this gorgeous wah, you'll begin to understand its true power, and how you can harness it for you own good and well-being. First, get yourself a small flathead screwdriver, otherwise it'll be pretty tricky to make the adjustments to the small controls inside this gray-speckled enclosure. Next…EXPERIMENT! You'll have a blast tweaking all the interior pots and coming up with different sounds, no matter how long it may take you to just finally stop and stick with one.
The Vari-Tune controls inside the RMC3 are as follows: Low, Mid, Q, Volume, and a 9-channel Sweep. All of these controls basically work in conjunction with each other, so you'll have to be extremely patient and willing to dive in head first to a random sonic experiment. Lots of range on all of these controls, especially the Sweep, which has NINE parameters of its own, controlling the expansion or compression of the sweep range, in a 1-9 sonic progression. Confused yet? Me too, but it all works out, and is fun as hell to play with, so have a little fun, won't you?
Once you get your tone dialed in, the true fun can really start. This wah is voiced so well and works on a great level with other pedals, you'd be hard-pressed to find a better fit for your setup. According to the serial number, mine is from 2005, and the newer ones have more specs and 2 more trimmers to play with, but I love this wah I have. Check out all of Geoffrey's wahs and see which one fits you and your style. They're all hand-built and the attention to detail is second-to-none, not to mention the customer service you get directly from Geoffrey. Show him some support and visit his site, you won't be disappointed!
Submitted by Mike B, Website
GET EXCLUSIVE UPDATES, CONTEST INFO, SEE OUR LATEST DEMO VIDEOS AND MORE:










More info at: