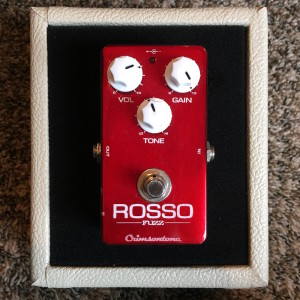 I had heard of Crimsontone Amps before, but until recently, was unaware that they also made pedals. Needless to say I was super-stoked when they sent a couple of pedals over to review – the amps look so incredible, I'm sure the pedals are no slouches, either. Well, my assumptions were all confirmed the minute I sat down and plugged in the Rosso Fuzz, the first of two pedals that arrived that day.
The Rosso is a silicon-based fuzz pedal, that can be used doubly as an overdrive, too. The Gain knob has a ton of range, and can do a wonderfully warm and articulate overdrive when dialed back, a full-on wall of sustained fuzz when cranked, and many, many variations in between. The Tone knob helps to smooth out any unwanted high or low-end frequencies that may arise from pickups that are too bright or amps that may lean towards the darker side. This is actually a great EQ control, as it too features a great range to dial in the sound specific to the rest of your equipment. The Volume is interesting on the Rosso as well, as it has been designed as a cut/boost circuit, so the pedal is still active even when the volume knob is turned all the way down, and is able to give your signal a great boost if needed when cranked.
Using 3-stage gain circuitry, the Rosso Fuzz is a small but looming powerhouse of a fuzz, with excellent tones, a great EQ section and a bunch of different dirt sounds to choose from. I love that it's so dynamic in tone, while remaining true to your guitar's tone, with just a rich, fuzzy cover to beef up your sound. Thanks so much to Bryce and everyone at Crimsontone for sending this pedal to us to check out; stay tuned for our review of the Nero Overdrive coming soon as well, and don't forget to go check out the Crimsontone website, and see all the amps and pedals and cabs they have to offer!
Submitted by Mike B, Website
Demo Rock pedalboard by West Coast Pedalboard
More info at:

GET EXCLUSIVE UPDATES, CONTEST INFO, SEE OUR LATEST DEMO VIDEOS AND MORE: