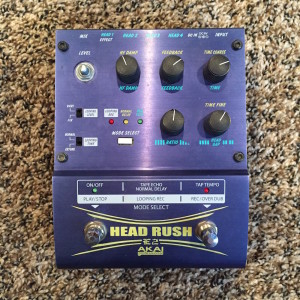 16-bit Digital Delay. Tape echo emulation. Looper. Tap Tempo. Twenty-three point eight (that's right, 23.8) seconds of delay time. These are all options we seek, for a variety of different pedals, right? There's no way these could ALL be present in just one, sweet, blue-mixed-with-purple pedal, could there? As today's pedal, the E2 HeadRush from Akai Professional, will show you, it IS possible…and so much more, too.
With so many options, the E2 HeadRush is surprisingly user intuitive, and you should be able to figure out the basics in a short amount of time. The Mode Select button toggles digitally between Normal Delay, Tape Echo and Looping modes, with a group of corresponding knobs that function differently depending which mode you happen to be in. HF Damp (High Frequency Adjustment) and Feedback are the same in both Normal Delay and Tape Echo modes, but the other two knobs share different jobs.
In Normal Delay mode, the top right knob uses the label Time Course, and it adjusts the overall time of the delay, from 0.5ms to 1.45 seconds, and in Tape Echo mode, from 10ms to 1.45 seconds (if you want it to go longer, up to 23.8 seconds, just use the Tap Tempo footswitch). Basically, you use this control to get the shorter delay times that might be difficult to set using the tap function. Time Fine is the next knob's label while in Delay mode, allowing for specific fine tuning of the delay time. While in Tape Echo mode, however, this knob becomes Head Gap, which adjusts the intervals between the four tape heads.
Next up is the Looper portion of the HeadRush, which features a whopping 35 seconds of record time, plus overdubs as well. If you need more than 35 seconds on a looper, you might want to re-evaluate what you're doing, so this should work just fine for most players out there. The overdub function is great as well, enabling you to create layer after layer of repeated sound, creating an entire sonic masterpiece for all your fans to bask in, and making you look like the rock star you were born to be with ease.
For some reason, the E2 HeadRush is CHEAP, which makes trying it out that much easier. Not sure how that happened, as it can play with the big boys that cost 2 or 3 times as much, and has a bunch of rad features that you certainly won't find together on another pedal in this price range. It's a little big, but if you don't mind moving a couple of those pedals you don't really use anyway off your board to make room for something spectacular, the Akai Professional E2 HeadRush Delay/Echo/Looper might be just what you're looking for.
Users: Mike Sullivan, KT Tunstall, Mike Doughty, Radiohead
Submitted by Mike B, Website
More info at: