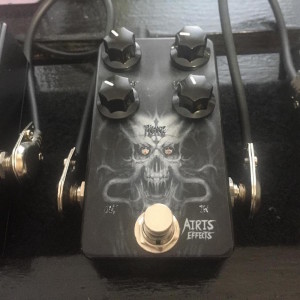 The Airis Effects Savage Drive is one of the most underrated overdrive pedals out there, the design that is put on it automatically makes you think, ok this is another "metal pedal" when sure it is used a lot for metal, but it is a very versatile pedal! Do not let the graphic fool you. I use this pedal for metal as that is just the genre I play, I can play other genres on it but since I play metal mostly I will base my review on that.
This pedal has 4 versatile functions with a good amount of sweep in each of them it has, Volume, Gain, Bite and Tight knob, the volume knob and gain knob are very much like a regular tube screamer volume and gain knob but with more sweep and you can get an insane amount of output from this pedal or you could just use it to shape your tone more overall and set the output relatively low. The bite and tight knob are pretty much the bread and butter of this pedal, the bite knob adds a nice edge to the high end especially for people looking to down tune, yet with a lot of sweep to it.
It can get out of control fast but if you are conservative when you dial in a tone (so you don't throw everything at 10) you can get great use of the bite knob, the tight knob basically tightens the low end nicely, also great for low tunings and when things start to get out of hands, or another great application of the tight knob is say you are playing music with a lot of chords but your low end keeps over powering your high end for large chords you can turn the knob up to tame that.
I use this pedal with my Marshall JCM800 and my Peavey 6505+ and it wields great results from anything I play whether it be Metallica or any deathcore band I can name. Airis Effects is a great company and the service is top notch!
Users: Cory Arford, Matt Perrin, Cameron Maynard
Submitted by Robyn N, Website, Instagram
More info at: