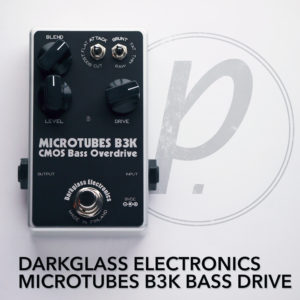 Today's guest review comes to us from Max F. – find him on SoundCloud (@MaxFaith)!
Darkglass Electronics' products are quickly becoming the hottest way to sculpt tone in the bass world. The Finnish company makes some of the most musical bass preamps, distortions, and amps on the market right now. Today's pedal is the Darkglass Microtubes B3K Bass Overdrive.
The B3K Overdrive has simple and intuitive controls for sculpting a wide range of bass tones. Like all Darkglass pedals, the Blend and Level controls allow for perfect mixing of the original bass tone with the overdriven signal. The B3K is designed to play well with both passive and active basses. The unit has Attack and Grunt controls with three positions apiece to allow for a wide range of tonal possibilities.
The B3K gain-structure is extremely versatile. With conservative settings of the Drive and Blend controls the unit will impart warmth, fatness, and clarity to the original bass tone. Aggressive drive and Level settings can add percussive grind or saturated complexity to your sound. The Attack switch is particularly useful for the B3K's higher gain sounds by allowing you to control the range of treble frequencies that are being distorted.
Darkglass Electronics have hit another home run with the Microtubes B3K. Because of its intuitive control set, musical gain structure, and blending abilities, the B3K is in a class of its own when it comes to bass distortion.
*Don't forget to check out Max Faith's original tunes on SoundCloud as well – CLICK HERE!*
More info at:

GET EXCLUSIVE UPDATES, CONTEST INFO, SEE OUR LATEST DEMO VIDEOS AND MORE: