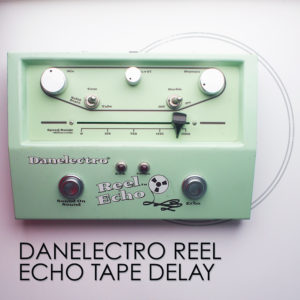 Tape delay/echo units have produced some of the most unique and recognizable tones in music history, used by countless artists and studio producers for decades. However, the older, "classic" units are big and bulky, and are extremely prone to damage, lack of replacement parts and near impossible upkeep. Fortunately, we live in a golden age of effects pedals, and companies like Danelectro re-create these machines with modern updates and best builds, like today's featured pedal, the Reel Echo Tape Delay.
While no slouch in size itself, the Reel Echo can still fit on any normal-sized pedalboard, and without all the actual tape changing and recording head replacement to deal with, you just get some smooth and vintage delay tones with ease. A Mix control lets you blend in the repeats as you see fit with your sound, from a slight audible detection to an overpoweringly awesome signal takeover. Repeats also does what it suggests, letting the user control how many times the delayed effects is heard (more on this knob in a minute). The Lo-Fi knob is a great feature for a pedal of this type, rolling off the high frequencies of the successive repeats for an authentic analog tape delay sound. A cool slider replaces the usual Time knob, letting you have complete control over the sound, and making it fun and easy to experiment in the moment.
There are a couple of toggle switches present on the Reel Echo as well: The Tone switch lets you choose between Solid State and Tube-like delay tones, while the Warble switch helps to capture the classic tape delay sound by deviating the pitch of the tape. Finally, this big green monster can be used as, albeit a short one, a looper, which they have dubbed Sound On Sound, where you can record a snippet of notes and play over it, for some fun jamming adventures.
The Reel Echo Tape Delay gives you a whopping 1.5 Seconds of delay time to play with as well, which should cover the majority of your needs. A gorgeous recreation of those sought-after tape-based delay sounds, it will engage you mind and provide you with hours, days, weeks and maybe years of echo experimenting and delight. No longer in production, you gotta find one of these and try it out for yourself, especially if you consider yourself a tape delay novice, and see how it stands up to the real thing.
GET EXCLUSIVE UPDATES, CONTEST INFO, SEE OUR LATEST DEMO VIDEOS AND MORE:










More info at: