*This is our last review before a much-needed (and we think deserved) break for the holidays here in the States. Thanks everyone for another killer year of support and helping Pedal of the Day continue to grow and thrive – and if you haven't already, head over to Our Online Store and pick up some shirts, stickers and pedals for the musician in your life, or as a little treat to yourself. See you in 2017 – Cheers!*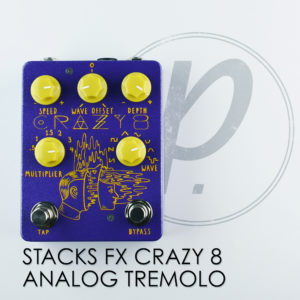 We've been enjoying the effects produced in Southern California from Stacks FX for a couple of years now, and today's featured pedal might be their best one yet. Pairing a clean analog path with a digital LFO to create a slew of wicked tremolo sounds, the Crazy 8 will have your head spinning for days, leaving in its wake a ton of ideas and phrases for album recordings and live situation scenarios. There's a lot to delve into here, so off we go!
The control section starts off with a Speed knob, allowing you to set the rate of the tremolo's LFO. With the Wave Offset knob, you get to control the push and pull of the waveform's peak, leading to a plethora of gorgeous tones. Speaking of the waveform, there are 8 different ones you can select from on the Crazy 8 (hence the name). Ramp Up, Ramp Down, Square, Triangle, Sine, Sweep, Lump and Random offer you more tremolo choices than you'd ever think you need, but one you hear them all in action, they'll easily fit into your repertoire somewhere. A Depth knob mixes the wet and dry signals, enhancing or diminishing the effect as needed.
The last knob is a fun one, too: Multiplier. This lets you multiply the current speed of the LFO by .5, 1, 1.5, 2, 3 or 4 times, again creating multiple (get it?) ways to use and hone the sounds this purple beauty creates. A additional Tap footswitch lets you adjust the speed here, using the multipliers to switch things up on the fly. All of these options work well with a number of instruments, too, including guitar, bass and synth, and is an excellent tool for engineers, composers and sound designers as well.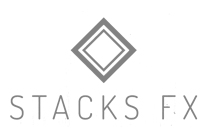 One of the funnest, most useful and option-filled tremolo pedals we've ever come across, the Crazy 8 is perfect for anyone who loves the tremolo effect, and wants a pedal that can enhance that love even further. The kids at Stacks FX have done it again, people, and if you don't know their gear yet, look up some more of our reviews, then head over to their website to pick up a pedal of two for yourselves. Stay tuned for more reviews and demos of their gear in 2017, everyone be safe and have a fantastic holiday season and New Year – Cheers!
GET EXCLUSIVE UPDATES, CONTEST INFO, SEE OUR LATEST DEMO VIDEOS AND MORE: