Jeremy DePoyster
Chicago, IL
The Devil Wears Prada
www.tdwpband.com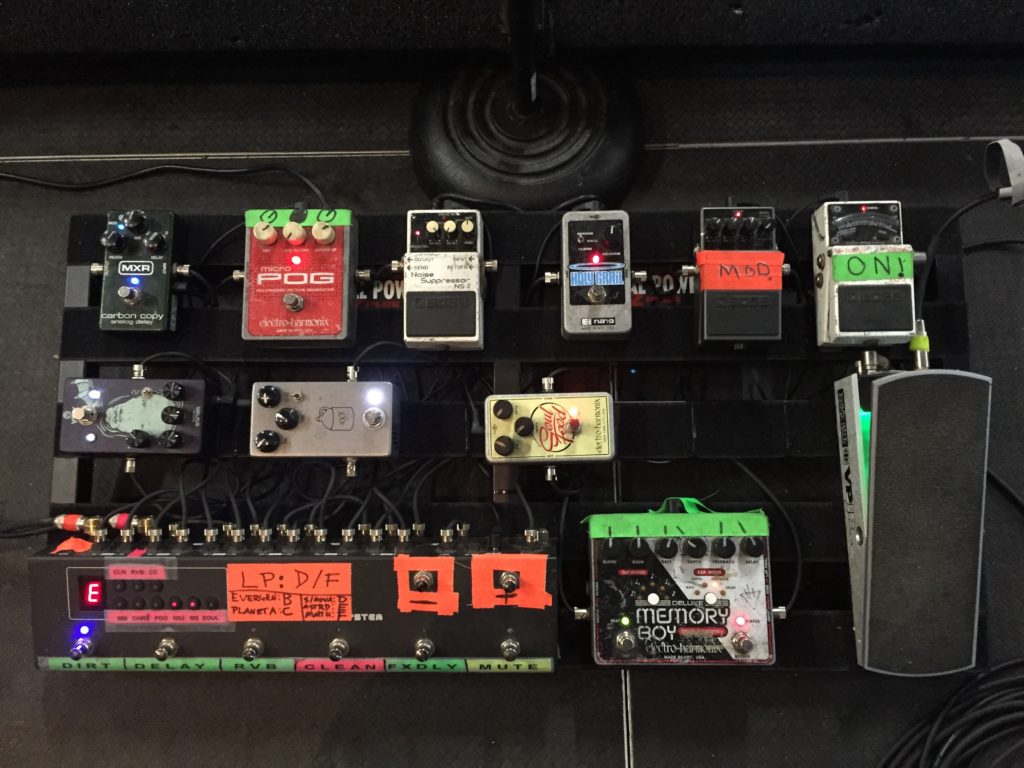 How long have you been a musician? How did you get into it in the first place?
I got my first acoustic at 10, and have played ever since. I took a quick interest in keyboards, synths, and sequencers and have been making music with them since around the same time. I started with a KORG Polysix running a curly cable into a Fender Champ Amp.
Who have been some of your major musical influences, past or present?
Pink Floyd, The Cure, Bauhaus, Siouxsie and the Banshees, Sisters of Mercy, Marilyn Manson, Tycho, Interpol, Peter Gabriel, Metallica, Slayer, White Zombie. I like anything that's darker and melodically interesting.
What drew you to using pedals initially? Have you been using them throughout your playing career? How have pedals helped to shape your sound, or influence the style that you've created?
My first pedal was a BOSS Metal-Zone because I wanted my Fender Champ and Kalamazoo SG knockoff to sound like Static-X and Marilyn Manson. I think I got a chorus pedal next because my dad turned me on to Kurt Cobain. Pedals have been a massive part of my guitar playing style since our third record, the one I would consider our first foray into actual songwriting. I love melodies, soundscapes, and weird sounds behind the metal riffs, so I find myself reaching for delays and reverbs quite often. The last few records I've used a POG to add an octave up or down to certain leads, and almost exclusively analog delays (Memory Boy / Carbon Copy / Kyle, our other guitar player's Space Echo) because the way they feedback, modulate, and decay is so harmonically pleasing. I love to let a lead decay over the next riff. On Transit Blues there's quite a few disgusting riffs that use our singer's Fuzzrocious Grey Stache or my Walrus Audio Julia Chorus, which are both gorgeous. I used a BOSS RV5 on the modulated setting for some spacey sounding riffs as well.
What's your current setup look like? Take us through your pedal rig (feel free to include amps and instruments as well if you'd like):
Signal Path:
Moen GEC9 switcher – All pedals run through this, with custom patches to switch sounds quickly with one button press. Convenience of MIDI without the headache, and with all the cool pedals, because why play guitar if you don't like pedals?
Ernie Ball Volume Pedal Jr – JHS Mod
EHX Soul Food overdrive – Used as a clean boost in front of my Orange TH30 for cleaner parts
JHS Moonshine overdrive – I use this with the drive at 0 as a boost in front of my Orange Rockerverb. It makes this baby scream.
BOSS NS2 – Noise gate after both overdrives. Noise sucks.
EHX Micro POG – Octave up / down to fatten up a few leads on our Space EP songs.
Walrus Audio Julia Chorus – Very new chorus / vibrato that is lush, gorgeous, and has a lag control that changes the LFO height.
EHX Memory Boy Deluxe – Analog delay with tap tempo, my main go-to delay. Has great modulation controls on the tails.
MXR Carbon Copy – Analog delay that I use with the TH30. Very sweet trails. Also slight modulation.
BOSS RV5 – Reverb with a cool Modulated setting that adds slight harmonies, very lush, very nice.
EHX Holy Grail – Reverb that runs in-line with the RV5 to add some more on the back-end.
Palmer PLI-01 – New gizmo that Kyle got me that isolates the signals sent to both amps so there's no ground buzz and gives a nice full signal to both rigs. This thing was a life-changer!
The switcher also lets me choose whether signal flows to the Orange Rockerverb / Orange 4×12 or the TH30 combo.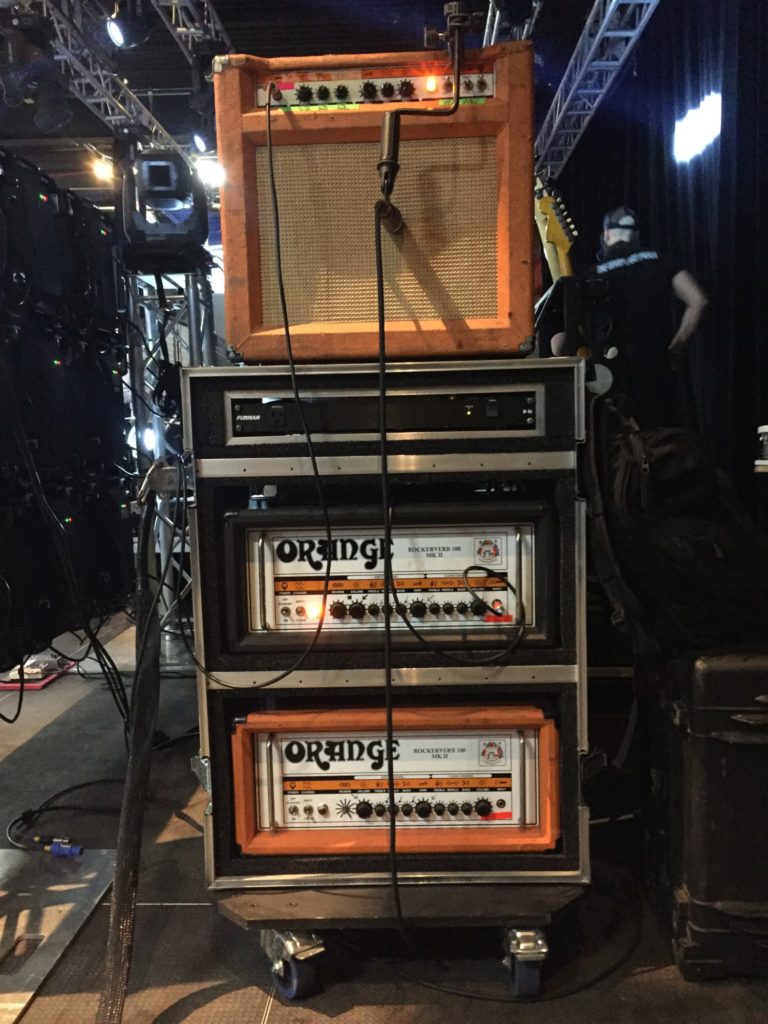 Favorite type of pedal (drive, delay, fuzz, etc. – more than one answer is always acceptable!):
Changes daily, but I like modulation a lot (chorus / flanger etc.) because I'm a MASSIVE Gilmour fan. And of course a nice analog delay. There are never enough.
You're stranded on a desert island – which three (3) of the following do you want to have?
Instruments: Gibson Les Paul Custom, Fender Mustang, Fender Jazzmaster
Amps: Orange Rockerverb, Fender Twin, Silvertone – I don't own one, but Mike and Kyle both do, and I'm in desperate need.
Pedals: THREE?? Okay, I'll take a Klon clone or a tubescreamer clone, an analog delay (Memory man?), and a reverb. Though a few of my amp choices have reverbs, so I'll take a chorus too. Loving my Julia so she'll do!
What's up next for you/your band in 2017?
So much! We'll be doing quite a bit of stuff overseas which is awesome, and some really exciting stuff touring-wise here. Mike also wants to do some other cool ideas on the recording side which will be a lot of fun. I see 2017 as a new beginning for this group, and I'm thankful and excited!
The Klon hype: Love it or Hate it?
I'm into the pedal. I have a Soul Food which is a clone and it sounds great! I think that there's an obsession with almost any pedal at this point, so why not the Klon? Memory Man, Space Echo, Tube Screamers, Big Muffs, some pedals just sound good! So I'm into it. I wouldn't pay that for one though, too many other pedals to get to!
Any last comments, promos or anything you'd like to talk about?
Thanks for the time! Please check out Transit Blues, we're all big pedal heads and used a huge variety of them on this record. I'm constantly wowed by the creativity of the rest of my band, it's quite inspiring, and I think it gives an eclectic mix of tones in the songs.
---
Thanks so much to Jeremy for taking the time to answer some questions! Make sure to go check out www.tdwpband.com, and check their tour page to see when they're going to be playing in a town near you! Cheers!
---
GET EXCLUSIVE UPDATES, CONTEST INFO, SEE OUR LATEST DEMO VIDEOS AND MORE: