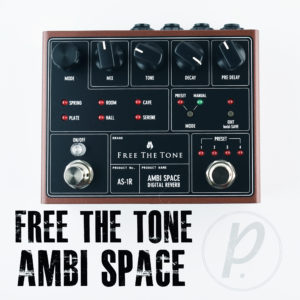 The folks at Free The Tone are making some absolutely phenomenal effects pedals, and have been for some time. Today, we're going to take a look at their latest offering, an effect genre that is as popular now as it's ever been, and one that continues to gain traction moving forward. The Ambi Space AS-1R is a digital reverb that has a warm and analog-ish feel, while supporting digital interfacing and harnessing modern technology to give you more reverberation options than you can shake a stick at…you know what we mean. We're gonna have some fun with this one, let's get our reverb on!
Let's start off with the modes: six of them in total, some familiar and some specially created for this pedal. Spring, Plate, Room and Hall you're all probably familiar with, but Cave and Serene are definitely new to the scene. These two modes are created by complex reverberation patterns being added to the reverb sound in multiple stages to realize unprecedented, transparent and spatial reverb sounds, all with a rich and harmonic structure. Scrolling through these six selections will give you instant reverb gratification, and once you dive into the control section, there'll be even more astounding sonic spectrums coming your way.
Mix adjusts the Wet/Dry signal mix, with the mix at 50/50 when the knob is turned fully clockwise (can be set to 100% Dry as well). Turn the Tone knob to the left, and you cut the high frequencies of the reverb effect; turn it to the right, and the low end gets cut the same way, with neither one affecting your original Dry signal. Decay allows you to manipulate the length of the reverb's decay, while Pre Delay adjusts the delay time before the reverb sound is output, ranging from 0-250ms. There are also 4 options for presets on the Ambi Space, where you can dial in a perfect tone, save it to a preset slot, and be able to recall it almost instantly. The Mode switch lets you go back and forth between manual control and the 4 presets you can choose from.
The Input/Output section of the AS-1R is impressive as well, boasting Stereo In/Outs, Line Level or Instrument input selection and a Kill Dry switch to give you 100% of the effect if you want it. There's a small switch to adjust the input level depending on what type of device you're using, and a MIDI In jack lets the Ambi Space receive signals from an external MIDI device. A supplied AC adapter runs this pedal with regulated 9VDC power, using negative center polarity and 280 mA or more.
The Ambi Space AS-1R even comes loaded with 4 presets for you to test out, making it a true plug-and-play effect pedal. With huge waves of sound, lush reverb filled with joy and emotion and some of the warmer digital tones we've heard in a reverb, this pedal from Free The Tone really exemplifies the golden age of pedals we are currently living in, and sets a pretty high standard for other manufacturers to follow and improve upon. Thanks to FTT for sending us the Ambi Space to review and demo for you guys, they have a whole slew of excellent pedals in their lineup, so make sure to check their website for more details and killer effects.
GET EXCLUSIVE UPDATES, CONTEST INFO, SEE OUR LATEST DEMO VIDEOS AND MORE: