Rob McConnell
Papadosio
Badger
ATF
papadosio.com
asianteacherfactory.bandcamp.com
How long have you been a musician? How did you get into it in the first place?
I've been singing since I can remember, but I've been playing bass for 15 years. My dad is a bassist but I wanted to be a guitar player initially. Some friends in high school needed a bass player so I took one of my Dad's Fenders and here we are. Pretty generic story but that's how it went down.
Who have been some of your major musical influences, past or present?
Tortoise, King Crimson, Zappa, Ween, Aphex Twin, The Beatles, Battles, Talib Kweli, Andrew Bird, Mr. Bungle…Too many to list…
What drew you to using pedals initially? Have you been using them throughout your playing career? How have pedals helped to shape your sound, or influence the style that you've created?
I loved making sounds that didn't apply to bass. I started playing with pedals pretty much immediately and the guitar player I was playing with at the time hated me for it, so I ran with it and I'm glad I did. Pedals have helped me develope a tight technique because you have to be creative to get the sound that you're trying to put out there. Any pedal that tracks (Octavers, synth pedals) requires good technique and I've spent quite a bit of alone time figuring out how to play with certain pedals (Microsynth, Boss OC3)
What's your current setup look like? Take us through your pedal rig (feel free to include amps and instruments as well if you'd like):
I run two channels for my bass with the first being Dry/Sub bass and the second is a wet channel. My clean channel is an Aguilar Tone Hammer 350 with 410DB cab. I use the DI on the Tone Hammer, it sounds great. My second channel is currently an Active Direct Box that our monitor engineer and good friend Dan Wedge built. I've used a number of amps and DI's on my wet channel and Dan's DI is by far my favorite and our Front of House Engineer's favorite.
Basses I use on stage include a Fender Roscoe Beck 5 String passive jazz bass. It's my all time favorite bass and has been since the early days of Papadosio. The other bass I use is a Fender Bass VI. It's tuned exactly the same as a regular guitar, just an octave lower. The Bass VI is beautiful sounding, especially chords played higher on the neck. I also use a Moog Minitaur bass synth on stage with Roland PK6 MIDI footpedals.
I run all my effects, guitars, and amps into a switching system called the Switchblade 8F. It's super useful and makes going from one tone to something totally different a breeze. You can even change the order of your effects chain, making for infinite tone possibilities.
Because I can change the order of my effects from one patch to the next, I'll just talk about the pedals I use instead of the order. My delay pedal is a Strymon Timeline and it is a favorite of mine. I use a Holy Grail for reverb and an Analog Man Chorus. My overdrive pedal is a Vintage Microtubes. For fuzz pedals I use a Fender Sublime, 3 Leaf Audio You're Doom, and Wren and Cuff Pickle Pie. I use a Boss OC3 for synthy, fat stuff and Moog Mini Ring Mod for various fuzz/octaver combos. I recently started using a MEL 9 by EHX and it emulates a mellotron pretty well. Before my bass hits any of these effects, I run it through a Mark Bass Compressore to even out my attack. My Tuner is a Polytune and the Switchblade is programmed to a Tech 21 MIDI Moose.
Favorite type of pedal (drive, delay, fuzz, etc. – more than one answer is always acceptable!):
I love fuzz so much. I currently own three.
You're stranded on a desert island – which three (3) of the following do you want to have?
Instruments: My main Roscoe Beck 5 goes everywhere with me…forever.
Amps: Any of Aguilar's amps. I'm not picky about amps, the DI is what I'm usually worried about and Aguilar's Tone Hammer DI is excellent.
Pedals: Boss OC3, Vintage Microtubes, Fender Sublime Fuzz, and the Timeline Delay
What's up next for you/your band(s)?
Papadosio has a big winter/spring tour coming up. Lots of recording with various projects.
The Klon hype: Love it or Hate it?
Never played one but they sound nice. I'd rather go the clone route and save my $1000.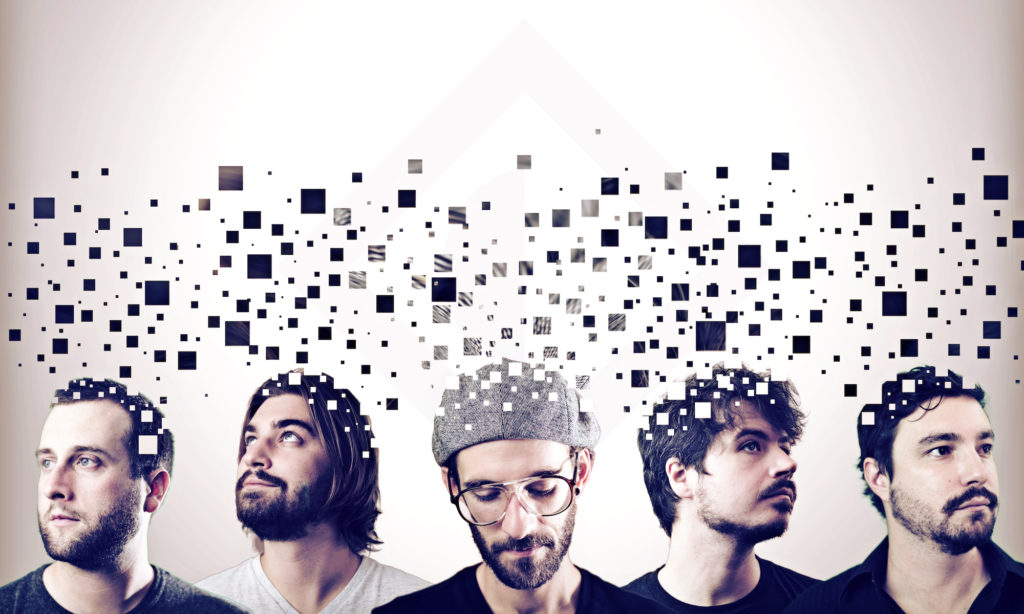 ---
Thanks so much to Rob for taking the time to answer some questions! Make sure to go check out papadosio.com, and check their tour page to see when they're headed to a town near you! Cheers!
---
GET EXCLUSIVE UPDATES, CONTEST INFO, SEE OUR LATEST DEMO VIDEOS AND MORE: