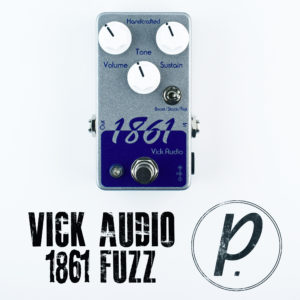 Those of us that love fuzz can't help but dig those old, vintage effects pedals of said genre. Problem is, more often than not, they're hard to maintain, and modern improvements on their original components and design are as tempting as ever. Which brings us to today's featured pedal – the 1861 Fuzz. Modeled after the Civil War-era fuzzes of the early '90s, the crew at Vick Audio has made a delicious nod to those old school effects, but classed it up and gave it a bit of a modern spin.
The Big Muff fuzzes from the 'Civil War' era were nicknamed such because of their distinct blue and gray color scheme, which Vick Audio has nicely decided to stick with in representing these fuzz boxes. Volume, Tone and Sustain are present as the main control panel, and all work exactly as their monikers describe. Not super overpowering, as far as fuzzes go, this one you can crank up and still retain that sharp, clean(ish) fuzz sound, without all the buzzing and noise that sometimes accompanies these pedals. Not that the others aren't awesome, it's just that sometimes, you might need a fuzz with great low end, a bit lower gain and complete overall smoothness.
There's a toggle switch for you to play with here as well. Select from three different mid-range options to suit your taste: Stock (scooped), Flat and Boosted are your choices, and each one adds a new element of sound to this fuzzy wonder. Working well with both guitar and bass, the 1861 is a nice blend between the Black Russian and Green bubble font fuzzes, and the Triangle or Ram's Head effects of years past. Using a high-quality PCB and 3PDT True Bypass switch, along with Neutrik Audio jacks and a powder coated enclosure, yo're sure to have this guy on your pedalboard for many years to come.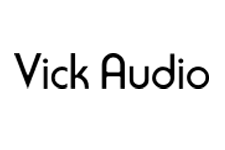 As usual, we can't say enough about Mike Vickery and the crew at Vick Audio for their continued support. In case this might be your fist time hearing about them, they make a great lineup of incredible pedals, and at super-affordable prices, too. Hard to beat the quality they put out for the minimal cost you pay, especially when there are so many options to choose from, but that aren't all within our price range. The 1861 is a killer fuzz, as we've come to expect from these guys – take a listen below, then grab your wallet and head over to their website to pick up a couple of dirty gems for yourself.
GET EXCLUSIVE UPDATES, CONTEST INFO, SEE OUR LATEST DEMO VIDEOS AND MORE: