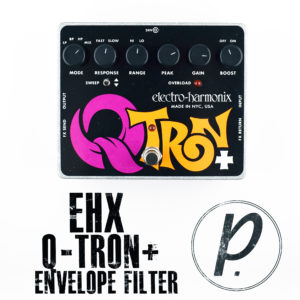 There's something about a wah sound that just gets your body movin' and groovin' a little bit. Maybe because it induces memories of your favorite Blaxploitation films, or the first time you heard 'Shakedown Street' live, or when you used to spin Stevie Wonder albums over and over in your youth. Whatever the case may be, it's a clearly recognizable effect, and one that we can't get enough of. Today's pedal, the EHX Q-Tron+, is a classic wah effect in the form of an Envelope Filter, which does the wah-ing for you, letting you focus on your sweet-ass dance moves.
The Q-Tron+ boasts a great amount of features and options to dial in the specific envelope filter/wah sound you're looking for, and without a huge learning curve. This makes it easy to sit down, plug in and funk til the cows come home. The Mode dial starts off the control section, and allows you to choose from 4 different filter types. High Pass, Band Pass and Low Pass are the three main options, with a fourth Mix option as well, which blends the Band Pass Filter with your dry instrument signal. A new addition for the "+" version of the Q-Tron is a Response selector, which changes the filter's sweep response, using either "Slow" or "Fast" modes.
Range is up next, letting you select from Hi or Lo modes, emphasizing vowel-like sounds in the latter and overtones in the former. A Peak control adjusts the resonance peak (or "Q") of the filter, creating a more dramatic effect as the control is increased. Gain is a dual control here: in normal mode, it works as a filter sensitivity control, but when the Boost section is engaged, it doubles as a volume control, too. The Boost mode itself simply ups the level of signal gain, in accordance with where the Gain knob is set.
There's a Sweep toggle present on the Q-Tron+ also, which lets you choose the direction of the filter sweep.Add to all this a sweet FX Loop, and you've really got a powerful machine on your hands. The FX Loop lets you add in other effects between the Q-Tron's preamp and filter sections, allowing for a big, bold, dynamic response to your playing, while simultaneously increasing the sound possibilities you can twist and manipulate. Add in a little fuzz or overdrive, perhaps some modulation and even play with octave settings – the possibilities here are vast and expansive.
The Q-Tron+ is one of the best envelope filter pedals we've come across, and apparently it's even good enough for John Mayer to reinvent the sounds of Jerry Garcia on his current Dead and Company pedalboard. As you can hear from the demo, there are a TON of sounds trapped in tis thing, just waiting to be released on the world and funkifize your soul. Another gem from Mike Matthews and the Electro-Harmonix crew, we love their gear and can't wait to review some more. Don't forget to subscribe to our YouTube channel after you watch the video, too – thanks!
GET EXCLUSIVE UPDATES, CONTEST INFO, SEE OUR LATEST DEMO VIDEOS AND MORE: