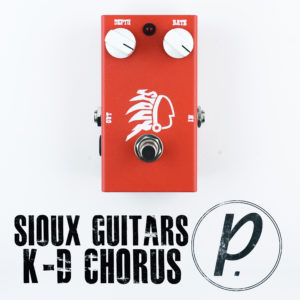 Sometimes, a knob or two are all you need to create big, fat tones to incorporate into your sound. Today's featured pedal comes to us from Sioux Guitars, and has that exact tonal mentality. The K-D Chorus has a simple, two-knob setup, but within those dials are a vast, sweeping expanse of sound for us all to enjoy.
Two controls make up the K-D Chorus' parameter section – Depth and Rate. The Depth knob adjusts the amount of the effect in your signal, or how intense and bold it sounds. A nice range here lets you have a little bit of the effect to kind of pad your original tone, or crank it up and unleash the power of this pedal, heading into pulsating, almost scary territory. The Rate knob sets the chorus' overall speed, from a slow-moving fade of sonic waves to a fast-paced, jittery, hyperactive mess of awesomeness, great for the noisemaker in us all. These two together form a powerful machine, capable of recreating 12-string guitar sounds, emulating Leslie rotating speaker cabinets and more.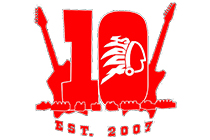 We used a guitar for this review and demo, but the K-D Chorus also works great with bass, acoustics, keys and more, for an all-around great effect for any situation. Simple, easy to dial in tones are what's on tap here, but you're not limited to just a few sounds, as this pedal can really produced a wide array of mechanical vibrations for your listening pleasure. Thanks to the crew at Sioux Guitars for letting us experience this little red monster – who knew so much could be trapped in such a small enclosure? They've got a great lineup of pedals on their site, so don't forget to head over there after you check out the demo video below.
GET EXCLUSIVE UPDATES, CONTEST INFO, SEE OUR LATEST DEMO VIDEOS AND MORE: