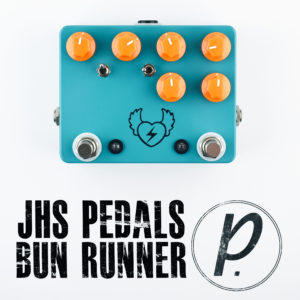 Although we reviewed this guy a while back, it was V1, and we weren't doing demo videos at the time, so we decided to revisit one of our favorite fuzz pedals, and update it a bit as well. We've included excerpts from our original review, as well as the sweet, sweet demo…
We love this fuzz. The Bun Runner from JHS Pedals is a sonic marvel, and one of the most versatile and useful fuzzes we have ever had the privilege of playing. With two quite different sides to this 2-in-1 pedal, many fuzzy tones are easily accessible, ranging from slightly overdriven to all-out crazy, gooey, fuzzy goodness.
The left side of the (now discontinued) Bun Runner is the (now discontinued) JHS Astro Mess Fuzz, which is a high-gain, modern-sounding heavy fuzz with a broad range of tones to be had. Plus, it also features a toggle switch that moves your tone from regular fuzz into a whole other stratosphere of sticky, note-heavy distortion. The right side is JHS' take on the Tonebender-style circuit, which features warmer, fuller, less harsh-sounding tonal properties, and can in itself provide a nice range of drive sounds. Each side sounds nice on it's own, and once you put them together, you'll be hard-pressed to find another fuzz with as much gain, buzzsaw, warmth, distortion and blitz as the Bun Runner. The newer version also has an Order toggle, so you can decide which side you want to be placed first or second in your signal chain.
Originally designed in collaboration with Drew Shirley of the band Switchfoot, the Bun Runner has become a go-to for guitarists everywhere, and with good reason. With 2 sections of differing fuzz to choose from, or choose together if you wish, the Bun Runner 2-In-1 Fuzz from JHS Pedals will have you scratching your head, wondering how you could've NOT had this pedal on your board for so long. However, since it has been discontinued, they're getting harder and harder to find, so if you happen across one, we suggest you scoop it up without a second thought. Good luck hunting, gang!
GET EXCLUSIVE UPDATES, CONTEST INFO, SEE OUR LATEST DEMO VIDEOS AND MORE:










More info at: