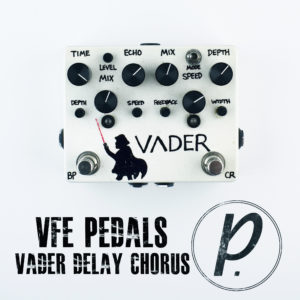 Today's pedal is a fantastic example of everything a 2-in-1 pedal should be, especially when it combines two great genres of effects together. The Vader (as we assume is its proper name) is a one-off custom pedal built by VFE Pedals, and it joins together their Blueprint Delay and Choral Reef Chorus effects. While these have both been discontinued, having them together in one pedal is a real marvel, and the rarity of it and the sweet hand-drawn Star Wars graphics don't hurt, either.
The Blueprint side is an analog-voiced delay based around the popular PT2399 delay chip. Level sets the delay's output volume, and features up to +20dB of boost available, making it an excellent delay/boost combo for lead tones and solos. Time sets the amount of the delay effect, with a range of about 40ms-580ms. The Echo knob sets the number of your repeats, and Mix blends your wet and dry signals. There are two small modulation controls present as well, Depth (Intensity) and Speed (Rate), adding another dimension to this portion of the pedal. You have more options internally here as well, with an internal Tone trimpot that blends the delay between two signals, one with a bright EQ and another with a dark EQ.
The Choral Reef side is an analog chorus pedal, built upon an expensive, out-of-production MN3008 bucket brigade chip. Used to satisfy VFE's high standards for noise, headroom, and versatility, a vast array of chorus tones are available, including flanger and vibrato. As with the Blueprint, Mix, Speed and Depth controls are present to control the chorus' modulation. There's also a Feedback knob, along with Width (Delay Time and Intensity) and Range controls present as well, for a ton of sounds ranging from mild choral-flange to modulated slap back and more. Internally, the right trimpot controls the gain of the output stage, and the left trimpot controls the bias of the MN3008 for maximum headroom.
These are both excellent as standalone effects, but when they are engaged together, the magic really happens. Sitting down and experimenting with the settings will open up an audio smorgasbord, producing big, lush, analog sounds that melt over your original tone like a warm musical blanket. Even if you're not a huge fan of Chorus effects, this one sounds great, and will surely find a spot in your live show or recordings somewhere along the line. Peter and the VFE crew have come up with a new line of pedals for us all to enjoy, so head over to their website and check them out…after you watch the demo below, of course.
GET EXCLUSIVE UPDATES, CONTEST INFO, SEE OUR LATEST DEMO VIDEOS AND MORE: