Johnny Hiland
Nashville, TN
http://www.johnnyhiland.net/
It is a sincere pleasure, and honor, to be doing this interview. I am a huge fan of Pedal of the Day, on Twitter, as I am truly a pedal nut. I just want everybody to know that you can find out anything you may want to know about me on my website, www.johnnyhiland.net.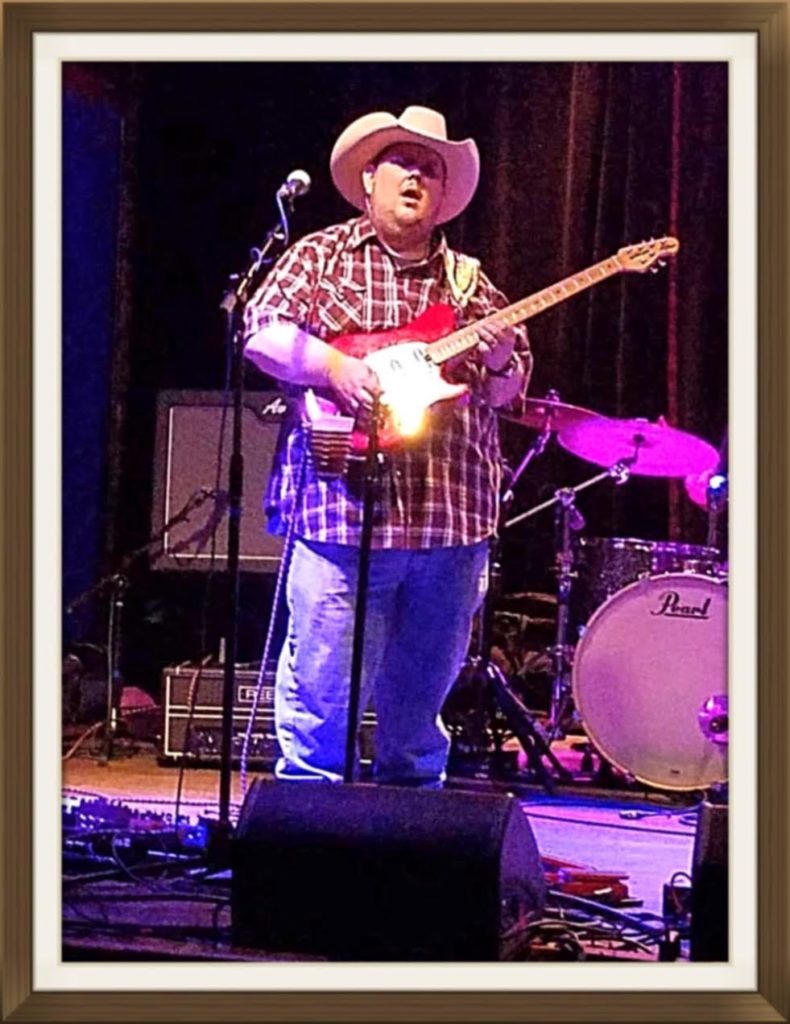 How long have you been a musician? How did you get into it in the first place?
I have been a musician now for around 40 years, and I have a wonderful story to share. I was raised in Woodland/Baileyville Maine with an eye disease known as nystagmus. In being legally blind, everybody wondered what was going to happen to me in life. My parents had given me a toy guitar for Christmas, and I gravitated toward it from the minute I received it. My mom also had an old acoustic guitar from the 70's, and they found me trying to play it all the time. I used to try to play along with commercials on television, and it didn't take long for my parents to realize that God had gifted me with a talent. When I turned 4 years old, my Aunt Brenda brought my dad his father's 1939 J-45 Gibson. My grampy John Hiland played guitar in the 30's, but was tragically killed when my dad was only six months old. Even though the old Gibson was a great keepsake for my father, he never played guitar. He played drums in the 60's. So, the guitar was passed down to me. My dad tuned that old guitar to an open E chord, and I actually started by playing the guitar flat on my lap, like Jeff Healey. I would use my thumb to walk the bass line, and I truly found a way to make it work for me.
Soon thereafter, my folks caught me listening to old country eight tracks. I would sit for hours trying to play along with artists like Willie Nelson, Merle Haggard, Waylon Jennings, Don Williams, and many others. I learned to sing the songs I could figure out on guitar. The next thing I knew, I was playing family reunions and local talent shows. I actually performed for the first time on television at age 7, on Dick Stacy's Jamboree. It was pretty amazing that a young legally blind boy was actually making good money back then. By age 9, my father took me to see a man named Phil Gallupe. He was the man who taught me my first seven chords while holding the guitar properly. I quickly practiced, as I was doing full shows by that time. It truly did not take long, and my sister, Jodi, and my brother, Jerry, joined me to form, "The 3 J's." Our father formed a bluegrass style back-up band, to include Phil, for us, and we entered the Talent America Competition. This led us to start touring all over New England, and up in Canada. I started learning other instruments as we developed the show even better. We opened shows for Boxcar Willie, Lynn Anderson, and Don Williams. We later went on to New York City, and won the finals there. After taking home trophy after trophy, we then joined the Downeast Country Music Association where we performed all over New England again. By that time, I was playing guitar, banjo, mandolin, and fiddle in our show. Our childhood bluegrass band flourished until I reached the age of 15. My voice started changing, and I was totally into electric guitar by then.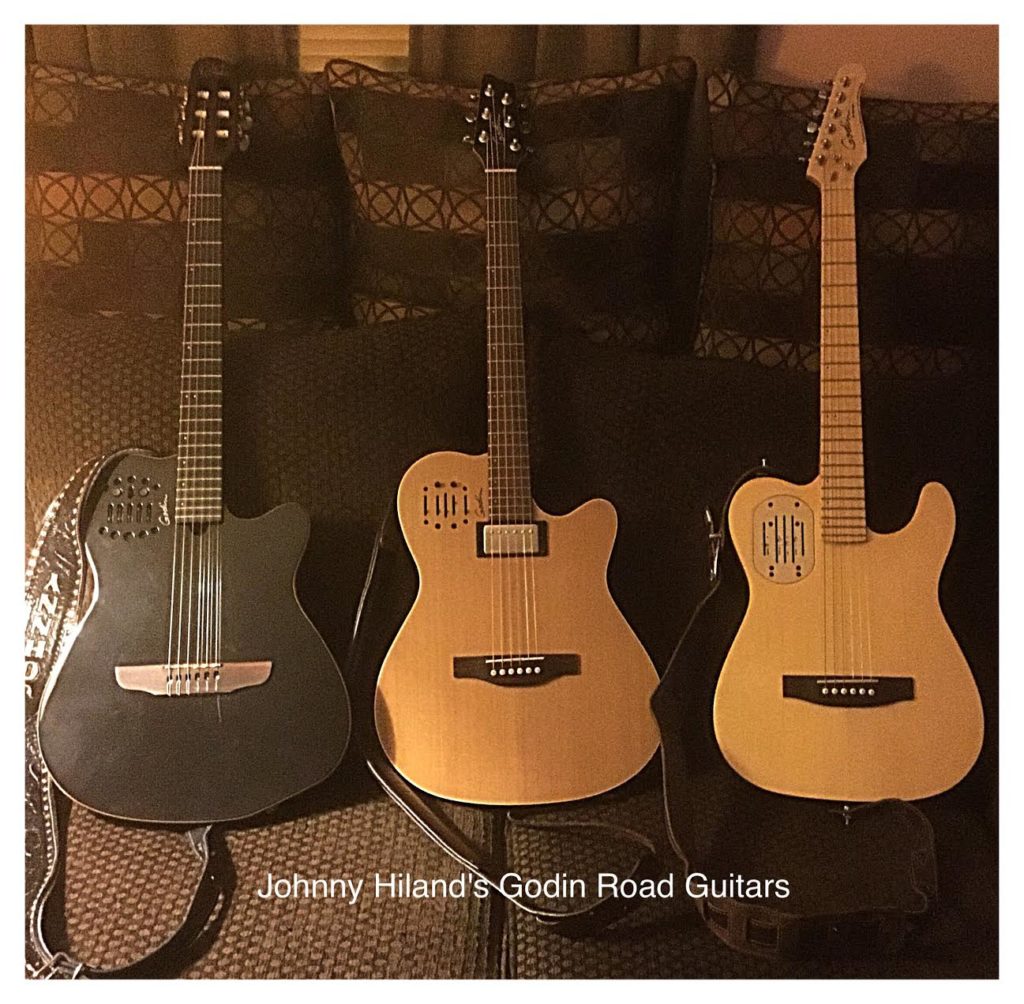 Who have been some of your major musical influences, past or present?
The story of me playing electric guitar started when my dad took me to see Ricky Skaggs at the Bangor Auditorium when I was 10. When I saw Ricky play his purple telecaster, it simply blew my mind! I knew, right then, that playing electric was what needed to do. Yes, I had a wonderful career going on with our little bluegrass band, and I loved listening to Tony Rice, Flatt and Scruggs, and Bill Monroe. We also played a lot of the top country songs bluegrass style in our show. As fun as that was for me, Ricky Skaggs became my ultimate hero! I wanted to be just like him, and play a tele. At age 12, my mom and dad purchased me my first real electric guitar rig. I was given a charcoal gray 1987 Fender USA Strat, a Peavey Classic Chorus 212 combo, and my first two pedals. They were a Dunlop Crybaby Wah, and a DOD American Metal Pedal. I then took eight lessons from a man named Bill Pierce at Northern Kingdom Music in Bangor. That was a two hour ride, one way, from our home in Baileyville. Dad faithfully drove me, every Saturday, to Bangor, so Billy could teach me music theory. He helped me a lot, and I still thank him to this day.
I started playing in a few local bands, growing my pedalboard and rig, and practicing my butt off! Stylistically, I was figuring out Ricky Skaggs b-bender licks without one. I was also listening to Vince Gill and Steve Wariner, too. Then, I started learning of guitar artists like Steve Vai, Joe Satriani, Eric Johnson, and Vinnie Moore. Headbangers Ball inspired me back then, and I started listening to bands like Van Halen, Metallica, and Rush. I loved the blues and southern rock as well, and I listened to Stevie Ray Vaughan, Robben Ford, Sonny Landreth, Lynyrd Skynyrd, the Outlaws, and others. It didn't take long for me to realize that I wanted to be a multi-genre oriented guitarist. To be honest, my pedal collection grew as my knowledge of different genres grew. My main goal was to get to Nashville, Tennessee, and work in every facet of guitar that I possibly could. As everybody probably knows, that dream certainly came true for me starting in 1996, after three years at the University of Southern Maine.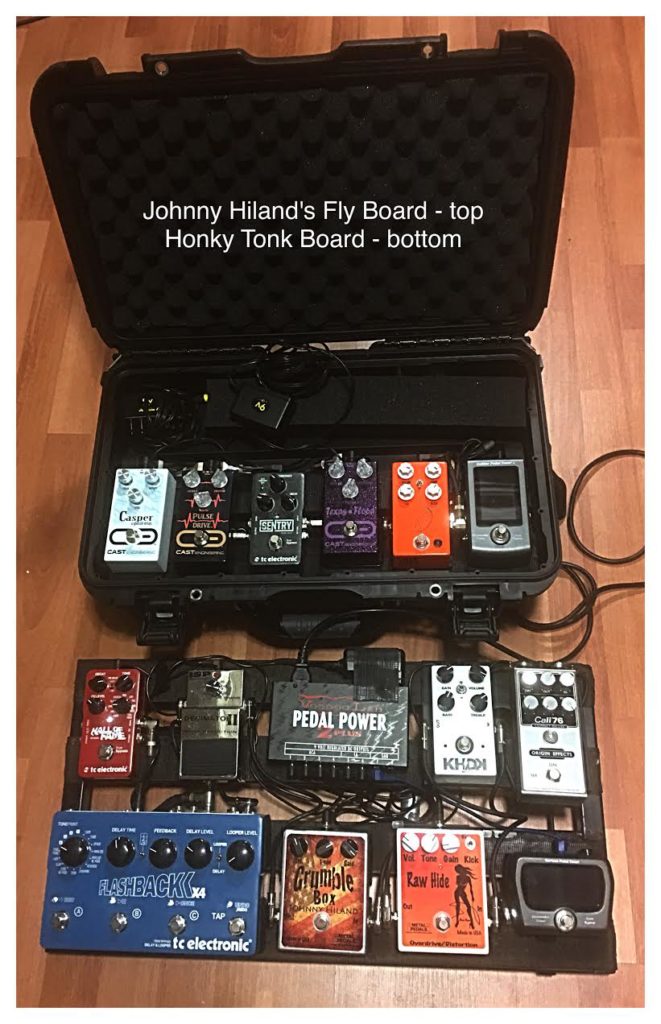 What drew you to using pedals initially? Have you been using them throughout your playing career? How have pedals helped to shape your sound, or influence the style that you've created?
Honestly, I can sincerely tell you that pedals have certainly shaped my tone. As I started my electric guitar journey, I used solid-state amps. Those are not fun to play with just your guitar plugged straight in. I found that I needed pedals. When I moved to Nashville, I picked up my first tube amp. It was an old Music Man amp that I bought off Redd Volkeart. After experiencing a fuller tube sound, then pedals became even more fun to use. My use of pedals became more like icing on a cake. You take a great guitar, like my Music Man Axis Sport with my Electric City Pickups in it, pair it with a great sounding tube amp, and then use effects to add flavors to your tone. That's truly what happened for me. So, yes, my use of pedals started way back from when I was 12, and I certainly still rely on them today.
What's your current setup look like? Take us through your pedal rig (feel free to include amps and instruments as well if you'd like):
In loving chicken pickin' guitar, I have found that it is crucial to use a loud clean amp tone, and use pedals to create your overall sound. I learned that early on, and I have played that way for years. For example, to play country guitar, you need a good tuner, a compressor, a light overdrive, a noise reduction pedal, reverb, and a versatile delay pedal. Those are the essentials in a good country tone. Then, you can have some fun adding other flavors like a heavier overdrive/distortion, a Leslie style pedal, a pedal that will give you a 12 string sound, etc. It also depends on where you want to take your career. For example, I have four different boards. I have a board that is set up primarily for studio sessions. This board is set up to have options for whatever tone a producer might ask for. I also have a pedalboard that is set up primarily for honky-tonk gigs. Not too big, and not too small. My 3rd board is set up in a tiny Gator flight case for me to take on a fly gig, I actually carry it right on the plane with me. Minimalistic necessities for my tone. Last but not least, my JHB board is set up specifically for what I need in my show with my band. All four of these boards are significantly different, yet offer me everything and anything I may need to fulfill all of the obligations within my career. Then again, these are all effects that make me smile and make me want to play to the best of my ability. Remember, the most important thing is having fun when you play. That's why we country boys call it, "pickin' and grinning!"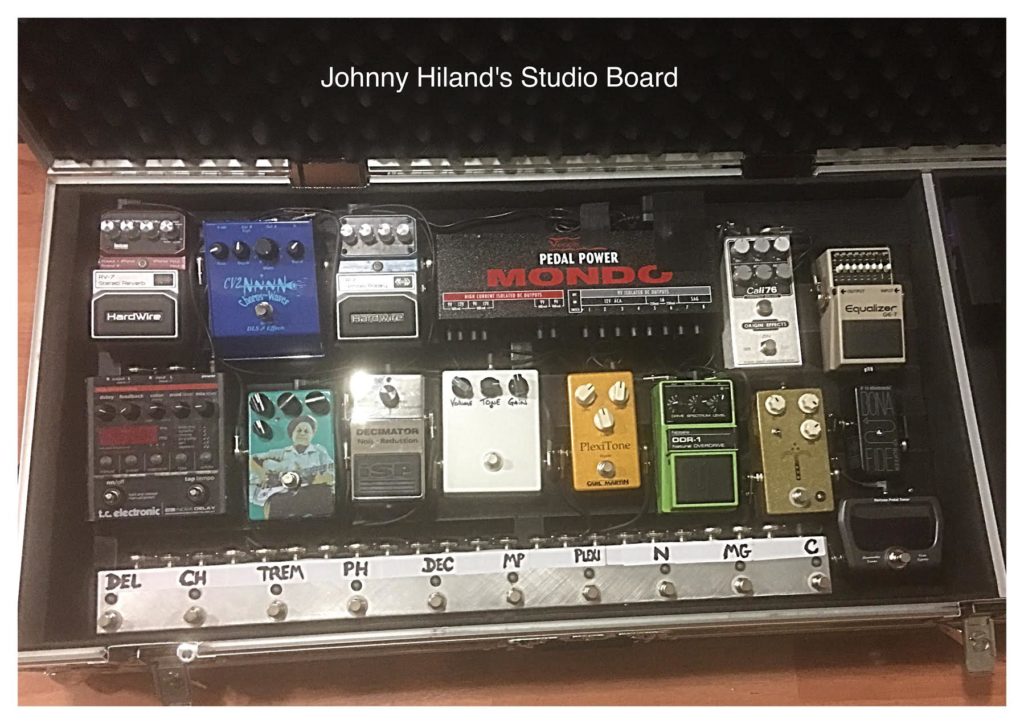 Favorite type of pedal (drive, delay, fuzz, etc. – more than one answer is always acceptable!):
In answering the question of my favorite pedals, I would have to say that I am the most fussy with compressors and distortion pedals. I have many of those. However, I do feel that my search is over for the right delay. To me, the TC Electronic Flashback X4 is the best, most user-friendly, multiple delay pedal I have ever used. The options in that pedal are endless. Are there other great delays out there? Sure, and I have a few in my collection. However, for me, that one beats them all. Right now, my favorite compressor is the Origin Effects Cali76 Deluxe. It doesn't get much better than having an 1176 studio compressor on your board. DLS Pedals makes a number of killer modulation effects. One of my other favorites is the RotoSim by DLS. If you want to get that Danny Gatton Leslie sound, this one tops them all in my book. Then, I would have to say that the GoGo Horizon tuner has been an answer to a prayer for me. The most important thing is to keep your guitar in tune, and this bad boy even allows visually impaired people to see it in any situation. It totally rocks, and I am so blessed to use them on all of my boards.
Last, but definitely not least, I would have to give a shout out to Metal Pedals. I actually have two signature distortion pedals with brother Dave Pantaleone. As fussy as I am with distortions, he handcrafted my JH-3 for heavier gain, and my JH Grumble Box for an all-around live distortion pedal that is uber-versatile for all of my needs. We based that one after the tone of an old Dumble amp. Yet, it can clean up nicely, or kick you into a killer 80's rock tone. I truly love both of those bad boys. One thing that I failed to mention, but I will now, is how important it is to have a noise reduction pedal on your board. The ISP Decimator II has been one of my go-to pedals for that. When you run a compressor with an overdrive/distortion, you are going to raise the noise floor. This bad boy will clean your tone up, and allow you to have fun with whatever pedals you choose to run. I truly love it, and I would definitely recommend that every guitar player gets one today! The only other noise reduction pedal that I would recommend is the TC Electronic Sentry. I have just recently become more hip to this pedal, and it is a beast as well. To create any great tone, you have to rid yourself of noise. Both of these wonderful pedals will definitely get the job done for you!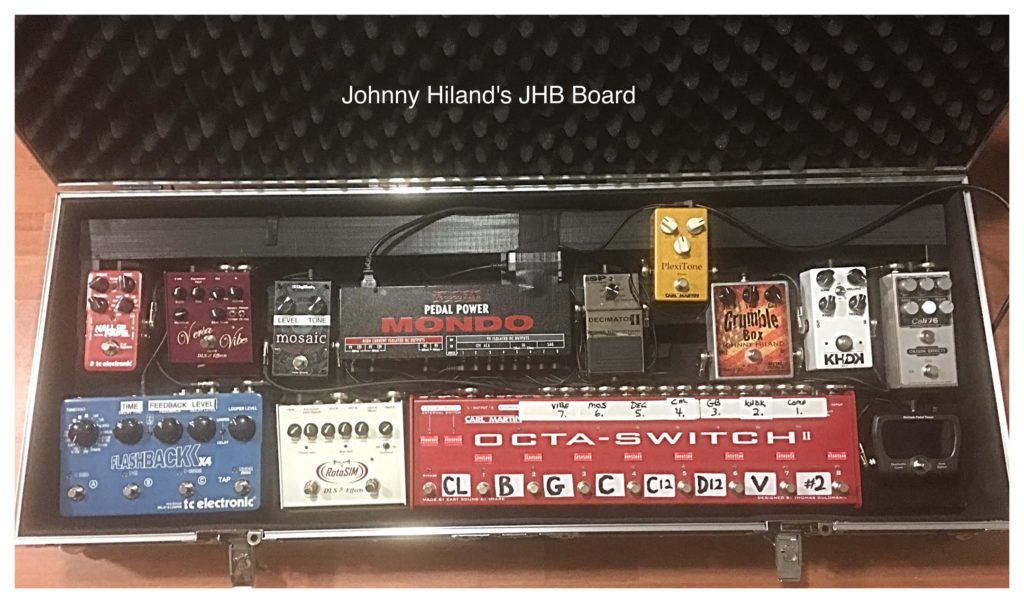 You're stranded on a desert island – which three (3) of the following do you want to have?
Now, I cannot honestly say that I have a favorite pedal. All pedals have unique characteristics in tone. Yet, I do have some that I would not live without. In answering the desert island question, I would have to have my two 1998 Music Man Axis Sport guitars and a Music Man Cutlass. I would have to have a Fender blackface Twin, a Music Man HD-130, and a Marshall JCM-800. Now, for my board, I would have to have my Honky Tonk board. There is just no way around it. A GoGo Horizon tuner, a Cali76 compressor, my JH Metal Pedals Grumble Box, an ISP Decimator II, a TC Electronic Flashback X4, and a TC Hall of Fame Reverb! It would have to be a PT-2, with a Voodoo Lab Pedal Power 2 Plus, Analysis Plus cables and Mogami connector cables. Whoooooh, that would have to be one hell of a boat to haul all of that!
What's up next for you/your band(s)?
I have a lot going on this year! My brand-new album called, "Standing Strong," will be coming out sometime in late April, early May. I had a blast recording it at M-Pact Studio, here in Nashville, with engineer Dallan Beck. He is a great friend, a mega talented engineer, and a true blessing to me! This record was a labor of love, and I sincerely appreciate all of the support I was given to help me in getting it done.
I have also written my autobiography, and it is being ghost written, as we speak, by my dear friend, Eric Dahl. Keep checking my website, www.johnnyhiland.net, for updates on that.
My band is gearing up to start touring with me soon. I currently have TJ Armstrong on bass, Bruce Guttridge on drums, and Robert Arthur on rhythm guitar and harmony vocals. These boys are cooking with grease, and we hope to see you in a town near you real soon!
I am always teaching private lessons, and if you are interested, please reach out to me via my website on the Contact page. I teach right here in my home in Nashville, and I also provide lessons on FaceTime or Skype. I would love to teach you, so please reach out to me!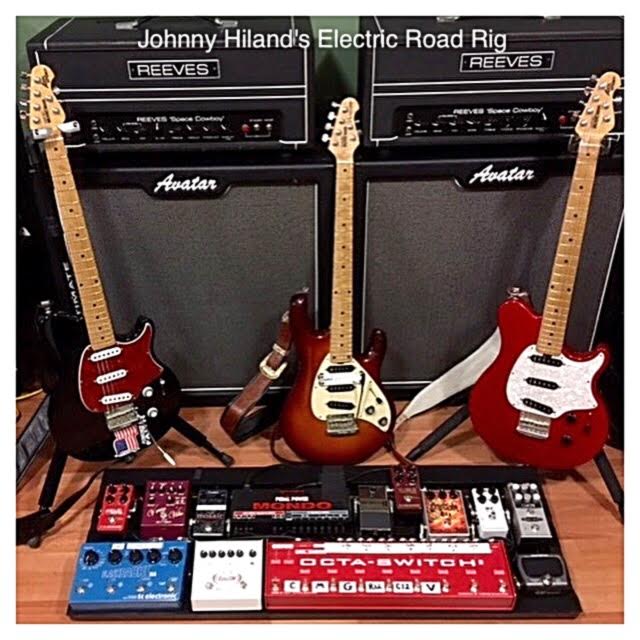 The Klon hype: Love it or Hate it?
I have never really messed around with Klon pedals. I know there is a lot of hype out there about them. I am certainly not one to like to stack pedals, and from what I've seen, most people do that when using a Klon.
Any last comments, promos or anything you'd like to talk about?
I just want to thank everyone for their continued support! I sincerely love all of my fans out there, and I hope that we all help to see guitar music stay alive! The music industry, and our world, has changed a lot!! However, just remember, music is good for the soul. I like to add to that by saying that guitar is a great way to speak through the soul!!!!! God bless y'all, and thanks to Mike and all the folks at Pedal of the Day for asking me to do this!! I love y'all SO much!!!!
---
Thanks so much to Johnny for taking the time to answer some questions! Make sure to go check out http://www.johnnyhiland.net/, and check his tour page to see when he's headed to a town near you! Cheers!
---
GET EXCLUSIVE UPDATES, CONTEST INFO, SEE OUR LATEST DEMO VIDEOS AND MORE: