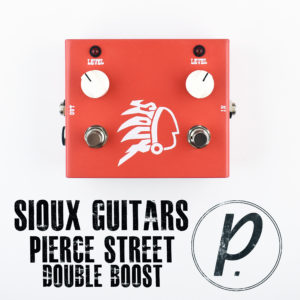 Boost pedals not only make you sound louder in the mix, they are capable of pumping up the tone in a great amp as well, not to mention adding in a little bit of dirt to your sound when set right. Today's pedal takes the boost concept even further, by giving you not one but TWO boost options in one pedal. Why would you need two boosts, you ask? Well, you obviously haven't played through the Pierce Street Double Boost from Sioux Guitars…
With it's super-simple layout and no-brainer control section, the Pierce Street Boost is a deceivingly plain pedal, but just wait til you dig into it a little bit. While neither side add any tonal coloring to your tone, they both supercharge your sound with that special sparkle that boosts can bring, and this pedal has it in spades. Using the left side to add a little crunch to your clean tone really brings your amplifier alive, and setting the right side for a bit more output gives you a smooth lead tone for solos. Full of sustain and power, you'll be utilizing both sides throughout your set, as well as during any studio projects.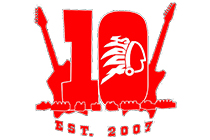 Sometimes, the simplest piece of gear can be a game-changer for your tone, and that's what the Pierce Street Double Boost seeks to accomplish. Step on these switches to send your tone into another sonic dimension, without getting any noisy interference or tonal coloration, and rip through the mix to let your musical voice be heard loud and clear. Cheers to our friends at Sioux Guitars for another gem of a pedal – check out their website here, and check back with Pedal of the Day soon for more reviews and demos of their rad lineup of pedals.
GET EXCLUSIVE UPDATES, CONTEST INFO, SEE OUR LATEST DEMO VIDEOS AND MORE: