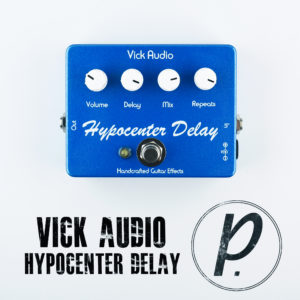 In our experience with Vick Audio, we have had the pleasure of testing, reviewing and demoing some of the greatest fuzz pedals we've come across. That said, we were pretty excited to venture into a new genre of effects from Mike Vickery and the crew, especially since it was a new and shiny delay pedal! The Hypocenter Delay harkens back to tasty analog delay and echo sounds from the '60s and '70s, with a wide range of sounds to play with and discover.
Volume starts off the controls by adjusting the output of the Hypocenter Delay, with Mix controlling the amount of the effect mixed in with your instrument's original signal. Delay sets the delay time, ranging from 25ms up to 450ms, utlizing the PT2399 chip by Princeton Technologies. This particular chip give this delay that classic analog sound, with a very low noise distortion (THD<0.5%) as well. The Repeats knob is the final control, and will produce repeats from one single one to infinite. This is a valuable tool in any delay arsenal, giving you a huge range of sounds to explore, and turn your regular guitar signal into a wall of sound, echoing and pulsating, creating wave after wave of sonic joy. Throw an overdrive, wah or vibe pedal in the mix, and instantly get your David Gilmour on.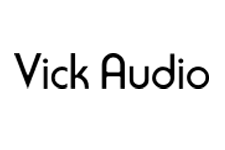 With a 3PDT True Bypass switch, Neutrik Audio Jacks and a powder coated enclosure, the Hypocenter Delay uses 2.1 mm Boss style power jack (power supply not included), with no internal 9V battery clip (yay environment!). A straightforward knob collection results in easy-to-dial-in echoes, and pairs excellently with the other pedals in your rig. Thanks to Mike as always for another wonderful pedal, and an excellent foray into the world of modulation. We hope to see more of these devices coming from Vick Audio, but for now, head over to their site to see all the fuzzes and other effects, including this delay, that they have to offer!
GET EXCLUSIVE UPDATES, CONTEST INFO, SEE OUR LATEST DEMO VIDEOS AND MORE: