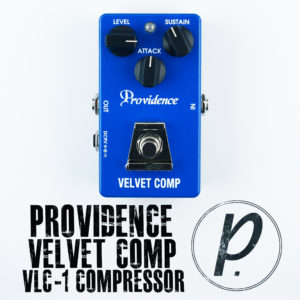 We love a good compressor to smooth out our tone a little bit, and using not too much or not too little is the real key. Today's featured pedal gives you the flexibility you need in a compressor/limiter, with the functionality and tone of studio-grade sounding gear. The Velvet Comp VLC-1 is a perfect example of how a compressor should work and sound, providing smooth and lustrous compression to your entire rig.
A simple three-knob control section makes the Velvet Comp and easy one to use, even for those who aren't too familiar with compressors. Level sets the overall Output level the VLC-1 produces when turned on, increasing as you turn it clockwise. Attack is used to emphasize your picking attack – turn this knob down if you want a softer, milder attack to come through. Finally, Sustain increases your sustain time. If you roll this dial back, you get into Limiter-type effect territory, which helps to prevent your audio levels from spiking past a certain threshold. Crank it up slowly, and you get a wide range of styles to choose from, with crisp chording, tight arpeggios and long, sustained notes.
The Velvet Comp also features Providence's Single Contact True Bypass configuration. In normal true bypass pedals, your original signal passes through two switch contacts. But here, the S.C.T. circuit makes sure you only go through ONE switch contact when the pedal is bypassed, ensuring the crispest and cleanest signal possible, for unmatched quality and reliability, too. The VLC-1 can be powered with a 9V supply or battery, and even has an on-board LED indicator to let you know when your battery's voltage has significantly dropped, and it's time to replace it.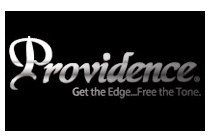 This blue beauty from our friends at Providence provides a wide range of tones right at your fingertips, and although compressors sometimes get a bad rap, once you figure out how to utilize the Velvet Comp for you own sound, you'll wonder how you ever did gigs or recording sessions without it. Thanks to Masaki and all at Providence for another opportunity to test out a great pedal – be sure to check out the demo below, then head over to their website to see what other wonders lay in store for your pedalboard.
GET EXCLUSIVE UPDATES, CONTEST INFO, SEE OUR LATEST DEMO VIDEOS AND MORE: