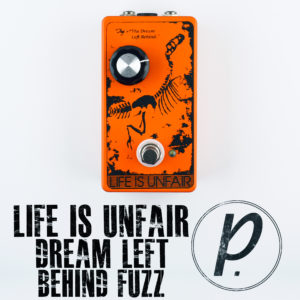 Sometimes, in our wonderful world of effects pedals, one knob is all you need to produce spectacular sounds. Such is the case with today's featured piece of gear, the Dream Left Behind Fuzz from our new friends at Life Is Unfair. Coming to us all the way from the city of Cardiff in southern Wales, this bright orange tone machine has fuzz sounds you might not expect from such a simple pedal.
Much Muff-y research was done to conjure up the sounds produced by the Dream Left Behind Fuzz, and while you can invoke classic fuzz sounds of the past, there is an updated and more balanced tone available in this effect. Based on a circuit that has no tone stack and a fixed gain, you use the Volume knob on your instrument to control the clean and dirty sounds, making it easy to set the one knob and use your hands to control the sounds on the fly. Once you find that sweet spot on the pedal itself, the rest is up to you, and the tones rely on your ability to set the Volume knob just where you want or need it, for a vast sonic expanse of tones.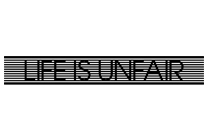 Hand soldered and screen printed, Life Is Unfair also offers a lifetime of free repairs (excluding cosmetic wear and tear, of course) on your pedal, and will even deliver your pedal back to you via bicycle if you happen to live in Cardiff! Full of sounds ranging from slightly overdriven to fuzzy overload, the Dream Left Behind is a valuable fuzz in any musical situation. These guys have two pedals in their lineup so far, so stay tuned for our review and demo of the Awkward Breed Fuzz coming your way soon as well!
GET EXCLUSIVE UPDATES, CONTEST INFO, SEE OUR LATEST DEMO VIDEOS AND MORE: