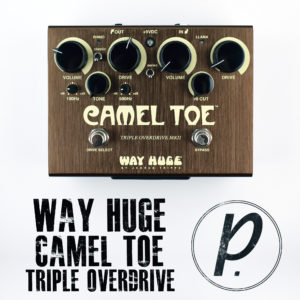 Over the last few years, Jeorge Tripps and Way Huge Electronics® have been re-releasing some of their classic pedals, most with some sort of update, to the delight of many who enjoyed the originals. Those had become incredibly rare and expensive, but the new reissues are well-priced and easy to obtain, thus rejuvenating the brand once again. Today' we're going to check out the newer version of one of the rarest originals out there, the infamous Camel Toe™ Triple Overdrive.
Long on the list of many musicians and collectors alike, only 25 of the original Camel Toe™ pedals were produced, making it super-scarce, and one of the most sought-after effects on the planet. That said, this new reissue was welcomed by many players, as the chance to own an original is not really in their favor. Staying sort-of true to the original, this one again features the Green Rhino on one side and the Red Llama on the other, but with a couple of new additions to go along with it.
The Green Rhino channel features the Volume, Drive and Tone controls from the original Camel Toe™, plus 2 new knobs and a toggle switch. The two small knobs let you cut or boost the 100Hz and 500Hz frequencies by 12dB each way, getting more or less mid range and low end depending on how you like it. There's a small toggle switch on this side as well, and when it's flipped to the Classic setting, you cut out the two frequency controls and just get the simple, old-school Volume, Tone and Drive setup of the original Green Rhino pedal.
The Red Llama channel features the Volume and Drive controls found on the original Camel Toe™, and on the new MkII Red Llama as well, but *SURPRISE!*, there's an added bonus. A Hi-Cut knob acts as a tone control, which really allows you to shape the sound of this warm and gritty drive, and will help to tame it a bit once you combine both channels into one… Yes, you can do that, too.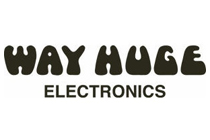 Switch the Series toggle to run both channels at the same time, and the Camel Toe™ really opens up. Using the controls from both sides, you can create all new settings and drive sounds, producing everything from mild and chunky overdrive to distortion that borders on fuzz territory, and a huge range between the extremes. A bit smaller than its predecessor, this new model is still a decent size, but for what you get out of it, you won't mind the space being taken up on your pedalboard. Thanks to Jeorge at Way Huge and all at Dunlop for creating and letting us check out the new Camel Toe™ Triple Overdrive MkII – we've got some more reviews of a couple of their newest pedals coming soon as well, so check back always and often!
GET EXCLUSIVE UPDATES, CONTEST INFO, SEE OUR LATEST DEMO VIDEOS AND MORE: