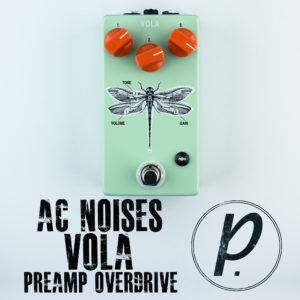 Discovering new companies, especially ones that are overseas, is always a thrill for us here at Pedal of the Day. Today's featured pedal comes to us from Italy, where a couple comprised of a music composer and a photographer/illustrator have combined their talents to produce a new and exciting collection of effects pedals. The Vola is a Preamp/Overdrive, with simple controls and a lot of sounds packed into its enclosure, so let's take a look…
Basically a 3-in-1 pedal, the Vola can be used as a clean boost, a preamp or an overdrive, depending on your settings, and what you need it for. The intriguingly-labeled knobs, whose numbers correspond to their functions via the dragonfly graphic, combine to form a slew of differing sounds and tones, constantly changing and giving you the boosts and drives you're looking for. While the Volume, Tone and Gain controls are pretty much to be expected within a pedal of this type, they all work cohesively to unite the circuit and bring about a broad musical stroke, perfect for giving your amp the kick in the ass that it needs.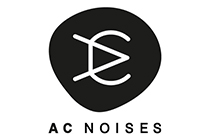 A unique design, high-quality parts, top-mounted jacks and hand-building in Italy give the Vola (meaning "fly" in Italian) a personal touch, along with great electronics and killer drive tones. We were lucky enough to have Andrea and Claudia send us all three of their current lineup of pedals, which we will be reviewing and demoing in the coming weeks, so please stay tuned. Be sure to watch the demo below to hear and see what the Vola Preamp Overdrive can do for you, and be sure to visit the AC Noises website as well!
GET EXCLUSIVE UPDATES, CONTEST INFO, SEE OUR LATEST DEMO VIDEOS AND MORE:










More info at: