Lance Seymour
Atlanta, GA
Gear Talk
www.gear-talk.com
www.youtube.com/GearTalkChannel
iTunes: Gear Talk Podcast
Instagram @GearTalk
Facebook: www.facebook.com/groups/geartalk (one of dozens of Gear Talk groups on FB)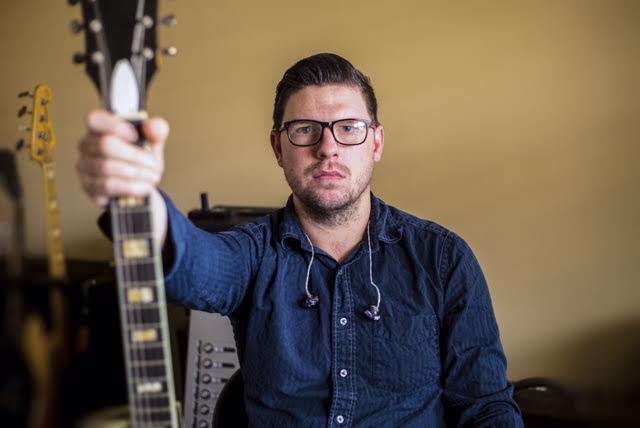 How long have you been a musician? How did you get into it in the first place?
I have been a musician for over 20 years. Not near professional that long. LoL. I started playing drums and piano. In high school, I moved on to guitar. I think music really hit me around middle school. I found bands like Tom Petty & The Heartbreakers and The Rolling Stones because that is what my older brother was listening to. I then discovered B.B. King, Clapton and Stevie Ray Vaughan.
I had to have a guitar! It was what I gravitated to. All the music I loved was guitar based, at the time. My first guitar came out of a catalog. The brand was Synsonics, or something like that. It had a built in speaker. I loved it.
Who have been some of your major musical influences, past or present?
Like I said, The Blues. That is what really set me off. B.B. King, SRV, Muddy Waters. I would dive deep into really old delta stuff. Blind Willie McTell and RJ.
I really did come of age in the 90's with the bands of that day shaping my ear. Anything produced/mixed by Brendan O'Brien is ok by me. Bands like Stone Temple Pilots and Soundgarden are the ones that I really could relate to.
I still listen to the same old stuff but always am looking for new things to inspire me. I am a really big jazz fan. All forms of jazz, from bebop to modern, to avante-guard. Pat Metheny will always be one of my favorite musicians. Anything with soul and vibe.
What drew you to using pedals initially? Have you been using them throughout your playing career? How have pedals helped to shape your sound, or influence the style that you've created?
I HAVE NO IDEA! Seriously. I just wanted them. I probably saw ads in Guitar World Mag and all my favorite players had these cool little boxes. I bought a Phase 90 when I started because it was the only pedal I could afford. I didn't know the difference between a phaser or fuzz. If you would have talked to me then, you would have heard me pronounce Flanger and FlanGer with a hard G. LoL
I have always had pedals as a professional guitarist. Just tools i need.
Pedals have helped shaped my sound by inspiring me. Doing something that made me go "Oh, there is something there" and then chasing it. It happens overtime I plug in to something new. I can get something out of anything.
What's your current setup look like? Take us through your pedal rig (feel free to include amps and instruments as well if you'd like):
LoL. Hard to say. I have hundreds of pedals at this point. They are all great. Typical stuff that sticks on my board are the King of Tone, JHS Colour Box, Timmy, Eventide H9 MAX and an assortment of Strymon pedals. Also the Source Audio Nemesis.
So many guitars to list…Les Pauls, Strats. SGs. I love my Duesenberg Starplayer DLX and Music Man Valentine so much!
My Sebago Sound DT50 has been the most used amp I have had for 6 years. It is a Dumble clone. Total pedal platform. I love it.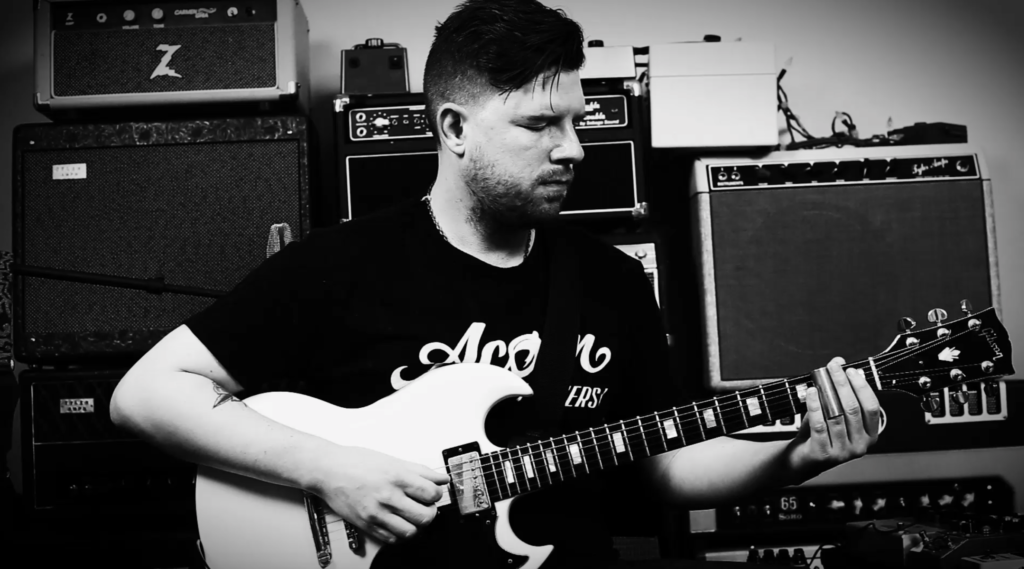 Favorite type of pedal (drive, delay, fuzz, etc. – more than one answer is always acceptable!):
Any pedal that I cannot verbally describe to someone what it does. Like stuff from Hologram Electronics. Stuff that is completely innovative.
You're stranded on a desert island – which three (3) of the following do you want to have?
Instruments: Guitar and Piano and Drums and DRUM MACHINE
Amps: Does not matter. I really dig the 3rd Power CSR
Pedals: All of them. I know I would want some sort of looper pedal
What's up next for you/Gear Talk?
Some covert stuff coming up. I look forward to Summer NAMM.
The Klon hype: Love it or Hate it?
Bleh. I love the psychology of it. Watching people GAS about them. I don't think too much of it, though.
Any last comments, promos or anything you'd like to talk about?
I want to say, I love this entire gear community. The good vastly out weighs the bad. We are a passionate bunch about our gear, but the gear is only the glue that keeps us together and helps us find friends. Friends that we may never have met, had it not been for our tonal obsession.
I am super proud of Gear Talk and am humbled to be part of it. I still text friends about pedals. I am sure I always will. I always have. Now my network is a bit bigger.
I really appreciate you reaching out to me about this, Mike. Cheers.
---
Thanks so much to Lance for taking the time to answer some questions! Make sure to go check out www.gear-talk.com – Cheers!
---
GET EXCLUSIVE UPDATES, CONTEST INFO, SEE OUR LATEST DEMO VIDEOS AND MORE: