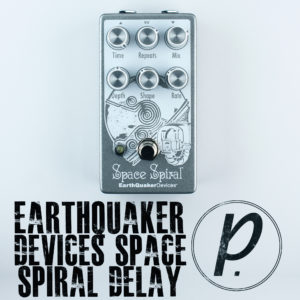 Whenever a package arrives carrying ANYTHING from our friends at EarthQuaker Devices, the whole shop seems to light up instantly. Continually reinventing the sonic wheel, Jamie, Julie and the crew keep dazzling our eyes and ears with each new creation, and one of their newest is what we're going to explore today. The Space Spiral™ is a delay with all the modulation you could want, as well as out-of-control repeats, outer space adventures and more sick tape echo sounds than you can throw a Binson Echorec at.
The top control row features some typical controls you might find on just about every delay pedal. Time sets the amount of the delay time, with a nice and useable range of 30ms – 600ms, plenty for just about all of your space station-inspired needs. Crank the Repeats up past 3:00, and get ready to head into some wicked self-oscillation territory, really ebbing and flowing with some crazy tones. The Mix knob lets you have as much or as little of this marvelous effect in your chain as you want.
The second deck of controls gets into the modulation section of the Space Spiral™. Depth sets how intense the modulation is, while Rate controls the speed. Shape is where the fine-tuning really takes hold, as you can smoothly blend between a warm and slick triangle wave shape and a rough, choppy, tremolo-infused square waveform. Both sides are equally at home in many differing musical styles, it just depends how intense you want your modulation, and how it plays into your specific musical style.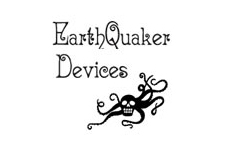 Old school tape and oil can delay sounds are plentiful here in the Space Spiral™, emulating the big, fat, walls-of-echo tones from years gone by that almost every delay fan adores. This pedal can also be used as a straight-ahead delay, too, in case we didn't mention that, and it sounds fabulous in that regard as well. Thanks to everyone at EarthQuaker Devices for yet another powerful and intriguing effect pedal for the world to enjoy – if you can't tell by now, we dig their gear, so stay tuned for more reviews and demos coming your way soon!
GET EXCLUSIVE UPDATES, CONTEST INFO, SEE OUR LATEST DEMO VIDEOS AND MORE: