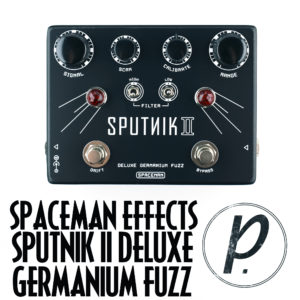 What can we say about the pedals that Spaceman Effects puts out? They're pricy, they're hard to find and they all sound incredible. Well, that's a start, anyway. Their latest masterpiece, the Sputnik II Deluxe Germanium Fuzz, takes the already brilliant circuit from the original Sputnik Fuzz, and beefs it up even more, if you can believe it. With a new second mode and a couple more tasty additions, this is a fuzz lovers' dream pedal…if you can find one.
When the Sputnik II is first engaged, you're in Regular Mode, where you have access to all kinds of wonderful fuzz tones to explore. The Signal knob controls your overall output volume, Calibrate acts as a wide-ranging tonal control and Range controls your fuzz gain amount. Calibrate and Range play off of each other a lot here, giving you almost endless combinations to play with, and sounding like pretty much any fuzz you can think of, with some new original tones thrown in for good measure.
The two toggle switches add in some more options for you, too: the High Filter switch provides three distinct tone options, which focus on the High and Mid-range frequencies. The Low Filter switch does pretty much the opposite, giving you Normal, +1 and +2 bass enhancing selections, perfect for beefing up a low output signal, or for bass players to really rumble the floorboards. These two toggles are directly connected to the Calibrate knob as well, providing yet another level of innovation to your fuzz sound.
Finally, we come to the crazy and awe-inspiring Drift mode, selectable via the second footswitch on the left of the Sputnik II. This mode takes an already powerful fuzz and pushes it to the very brink of sanity, adding in chaotic and corrupted overload fuzz like you've never heard before. The Scan control knob only works when Drift mode is activated, and controls how much or how little of this powerhouse noise you want added into your signal. The sounds the Sputnik II release in this mode are loud, buzzy, hard to control and just wicked rad – check the demo below for a small taste of what it can provide.
Utilizing vintage Soviet transistors and high-spec vintage components from around the world, it's no shock that the Sputnik II comes with a high price tag, and a limited quantity as well. The 125 or so that Spaceman Effects made sold out in a hurry, and we're not sure they even have the components left to build any more. Such a unique machine, surely to be coveted and sought-after for years to come – if you happen upon one and can shell out the dough, we highly recommend picking one of these machines up. It will transport you to another sonic dimension, and it's almost guaranteed to give ANY fuzz you currently have on your board a run for its money.
GET EXCLUSIVE UPDATES, CONTEST INFO, SEE OUR LATEST DEMO VIDEOS AND MORE: