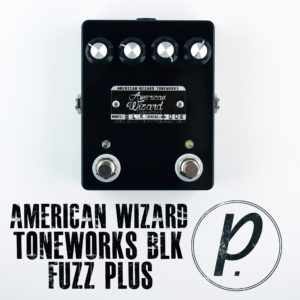 We love the simplicity of the line of effects pedals coming out of Pittsburgh, PA, from our pal Clayton and American Wizard Toneworks. That said, it was nice to see today's pedal step up the game a little bit, and add some much-appreciated controls into the mix, making the Blk Fuzz Plus a true powerhouse in the world of fuzz pedals. Containing an extra channel and some tone-shaping capabilities, this black beauty gives you all the Tonebender and Fuzz Face tones you can handle…and then some.
Where the original Blk Fuzz from AWT features just one lone knob, the Plus version has four total knobs, as well as an additional footswitch. The Volume knob is joined by Tone and Drive controls, which really open up what this pedal can do, resulting in a numerous amount of differing tonal possibilities to explore. Low Drive and Tone setting give you a great stoner rock-type of dirt sound, while cranking the Drive up gives you biting and sharp fuzz, without the unwanted treble frequencies if needed, letting chords and solo runs ring out with beautiful sustain,
The newly added second footswitch activates the Boost channel, which really pushes the Blk Fuzz Plus into extra overdrive territory. Not overly obnoxious or loud, this bit of extra juice tests the limits of both the effect and your amp, giving your sound an added pop and tonal clarity as well, especially when dimed. If you ever have a fear of not being heard either on stage or in the crowd, this option will leave you with absolutely no doubt in any situation.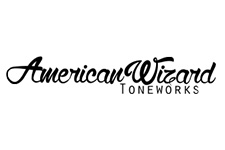 Featuring a tough enclosure, true bypass circuitry and quality Neutrik 1/4″ jacks, the Blk Fuzz Plus not only sounds incredible, but is most definitely built to last. Carrying on a tradition a excellent-sounding dirt pedals from American Wizard Toneworks, it adds in some new options and enables creation of new and exciting tones with ease. Thanks a always to Clayton and the AWT crew – make sure to head over to their website and find what other sonic treasures are in store for you…
GET EXCLUSIVE UPDATES, CONTEST INFO, SEE OUR LATEST DEMO VIDEOS AND MORE: