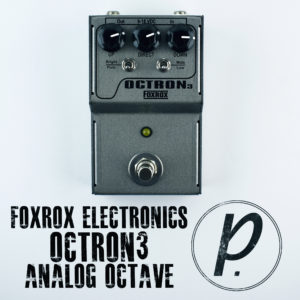 Earlier this year, we finally got around to checking out the original Octron Octave Divider from Foxrox Electronics, and we thought it was just an incredible piece of gear. Fast-forward to today, and we've got the next iteration of this steel gray beauty for you, complete with upgrades, more options and that same killer circuitry and tone. The Octron3 features a smaller enclosure, two additional toggle switches and an analog sound that fits smoothly into any guitar or bass pedal setup.
The Direct knob blends in your dry signal to taste, while the Up and Down knobs each produce their own sonic flavors. The Octave Up is a high-gain circuit, using germanium diodes to achieve the doubling effect, and adding a bit of grit and distortion into your signal. This control really responds to the upper frets, once you get past the 12th, but still works wonders on the lower frets, too. The Octave Down knob gets into octave divider territory, tracking your dynamics and applying more pre-divide gain and filtering. This pedal will let you know if you need a little more practice, too, as it responds much better to clean, articulate playing, as opposed to haphazard and sloppy.
New to this model are a couple of switches that were previously only accessible by opening up the pedal. The Bright/Pure switch gives you the option to have your signal running full range, clear and overflowing with harmonic richness (Bright), or getting down and dirty, running your dry signal through a low pass filter, for a more focused low-end effect. The Octave Down Mids/Low toggle again boasts two options: the Mids selection gives off a nice midrange punch, while Low offers up a big, beefy, bass-infested sound, perfect for driving a monster bass cabinet for some huge sounds.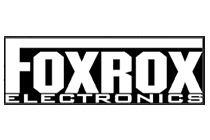 Joining the likes of Mu-Tron, Boss OC-2 and Octoplus pedals of the past, the Octron3 Analog Octave Divider brings new life and modern amenities to the table, including the ability to run it between 9v and 18v, for a nice range of increased headroom if needed. With a new smaller enclosure and on-board ready controls, this new version of a classic analog octave divider really delivers, making it a key component for guitarists and bassists alike, who dig octave in their effects arsenal. Thanks os much to Dave over at Foxrox Electronics for allowing us the opportunity to delve into this silver beast – be sure to head over to their website and pick one up for yourself!
GET EXCLUSIVE UPDATES, CONTEST INFO, SEE OUR LATEST DEMO VIDEOS AND MORE: