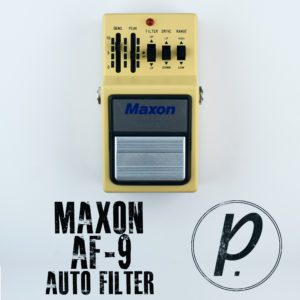 Who wants to get FUNKY? Today's pedal is just about all you'll need to do so, and with mind-blowing results, too. The Maxon AF-9 Auto Filter Envelope Wah Super-Machine easily creates down and dirty grooves, popping chords and all the Parliament/Funkadelic sounds you can imagine. Let's check it out…
The AF-9 is an optical analog envelope filter, reminiscent of the classic Musitronics Mu-Tron III, made famous by Jerry Garcia and Stevie Wonder, among many others. Two sliders are used to control Threshold (degree of pick attack that activates the filter) and Peak (center frequency boost to enhance the filter), which let you easily swap and create different responses and tones that come from this rad pedal. Moving and repositioning these 2 has a great effect on the effect, with a tone of different combinations between the two, for a wide range of tones and sounds.
Three toggle switches add to the diversity of this auto wah as well. The Filter toggle lets you select from High Pass, Band Pass and Low Pass filters, for three unique wah frequencies. The Range switch has High and Low modes, which determine the overall frequency where the filter is positioned, while Drive features Up and Down selections to change the filter's sweep direction. These three switches, when combined with the Threshold and Peak sliders, open up a world of outer space, funk and super-wah exploration, giving you a myriad of sonic choices to test and examine.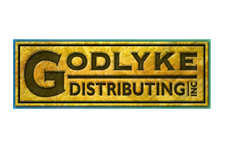 What's also nice about the AF-9, as opposed to some of the other vintage pedals, is its size. Very compact and pedalboard-friendly, like all Nine Series Maxon pedals, it gives you the ability to produce those funky sounds from decades past, without taking up valuable real estate in your rig. Thanks as always to Kevin from Godlyke Distributing for letting us test out this monster auto wah – we've got another one from him coming up shortly (the new version of the DiscumBOBulator), so be sure to keep your eyes and ears peeled for that as well!
GET EXCLUSIVE UPDATES, CONTEST INFO, SEE OUR LATEST DEMO VIDEOS AND MORE: