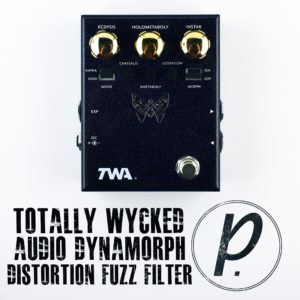 Every once in a while around the Pedal of the Day office, we encounter a pedal that is truly like no other we've seen before, and that really gets us going. The DM-02 Dynamorph from Totally Wycked Audio is just that kind of pedal, as it is a fuzz, filter, synth, distortion and more all wrapped into one out-of-this-world enclosure. With a ton of sonic options to choose from, and controls and switches up the yin-yang, this is one exciting, adventurous and unpredictable effect that we can't wait to tell you about.
All of the controls on the TWA Dynamorph are labeled with scientific and biological names, so you really need to check out the manual to figure this guy out. Ecdysis (Drive) gives you more punch and distortion, while also morphing the dirty signal's EQ in the process. Holometaboly (Effect) and Ametaboly (Dry) each let you dial in how much of the wet signal and your original signal you want present in the overall tone. Chrysalis (Gain) is an output level control, controlling the high-gain preamp that comes before the rectifier array in the circuit. This one interacts with the Ecdysis control, making for bolder, harmonically richer tones with greater compression. The Mode switch provides two distinct EQ curves, one with a bigger, fuller sound (Ovid) and the other with a focus on the upper frequencies (Kafka).
A second toggle turns the Morph (Envelope-Detector) function On or Off, allowing the remaining controls to be utilized. Instar (Threshold) sets a trigger point, which activates the Drive depending on your playing dynamics. Gestation (Rate) works with the Instar level to set how quickly the swell of the Drive control goes from zero to whatever you have it set at, creating more tonal flexibility and really focusing on how your playing will affect the sound. There's even an expression jack that lets you control the amount of drive that hits the circuit's diode array, for even more control and spontaneity.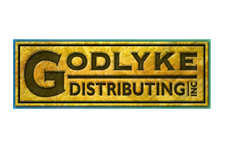 As you'll hear in the demo below, this pedal is FUN. Whenever an effect can't really be categorized, you know you're gonna have a good time testing and experimenting with it! Plus, there's a butterfly LED in the middle that not only shows you when the Dynamorph is on, but pulsates and blinks depending on what and how hard you're playing, giving you a fun visual to go along with all the sonic wonder and marvel. Again, thanks to Kevin from Godlyke Distributing for another opportunity to enjoy this fine pedal – please head over and check out the impressive list of companies and pedals they carry, and dive in to some auditory sensations to boost your mind and expand your playing.
GET EXCLUSIVE UPDATES, CONTEST INFO, SEE OUR LATEST DEMO VIDEOS AND MORE: