Michael Parker
Seattle, WA – The People's Republic of the USA
I play guitar & keys in the band Pickwick
www.pickwickmusic.com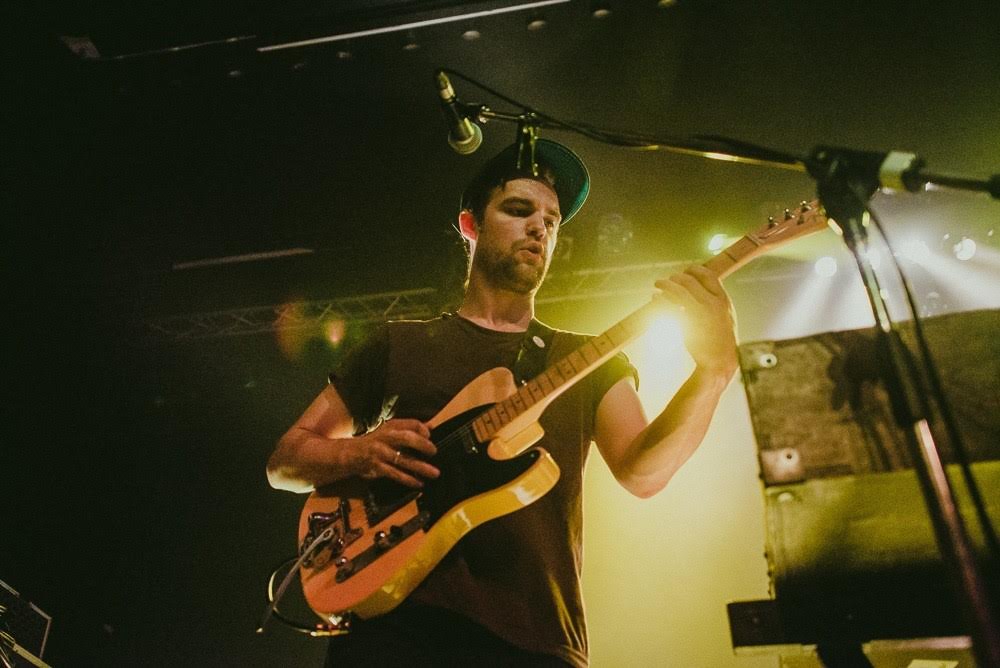 How long have you been a musician? How did you get into it in the first place?
I started playing guitar when I was in the 8th grade on a whim. I had a friend who was a drummer and needed some people to jam with. He recruited me basically because I was in the room and had nothing better to do. He showed me how to play "Come As You Are" by Nirvana on a guitar that he had lying around and that was that. After playing for a few hours I knew that I was probably going to play guitar in some capacity for the rest of my life. It just felt right.
Who have been some of your major musical influences, past or present?
Eddie Hazel, Leo Nocentelli, Chuck Berry, Keith Richards, Adrian Belew, Nile Rodgers, Ruban Nielson, George Harrison, Prince, Hendrix, Junior Kimbrough, Jonny Greenwood, Miles Davis, Tom Verlaine, Mulatu Astatke, "The Funk Brothers", Bob Bogle, Jake White, Carl Wilson, Mac DeMarco, Freddie King, Pete Cosey, Jimmy Page, Mike Bloomfield, Jimmy Nolen, Cass McCombs, Danny Gatton, Nels Cline, Dick Dale, Blake Mills, Peter Green, Tony Iommi, Johnny Marr, Albert King, Mike Campbell, Kurt Cobain, "Cream era Clapton."
What drew you to using pedals initially? Have you been using them throughout your playing career? How have pedals helped to shape your sound, or influence the style that you've created?
I think pedals are a big reason why I've stuck with the guitar for all these years. I love experimenting with different sounds and textures. I've heard people like Nels Cline say that pedals are to guitar players what different colors of paint are to painters. I think there's a lot of truth to that. Pedals give us options that can take us to exciting and unexpected places if we are open to it.
In my opinion, the actual sound and tone of a guitar part can be just as inspiring when writing songs as a great melody or chord progression. I can't tell you how many times I've written a song based off of an interesting sound. It might be a backwards way to work, but it happens to me all the time.
What's your current setup look like? Take us through your pedal rig (feel free to include amps and instruments as well if you'd like):
My current pedal rig looks like this:
ZVex Fuzz Factory, Boss TU-2, Digitech Whammy WH-1, Electro-Harmonix POG2, Dunlop Crybaby, Sola Sound Tone Bender, MXR Micro Amp, JHS Unicorn, Boss DM-2, EarthQuaker Devices Palisades, Yellowcake Furry Burrito, Strymon Lex, JHS Emperor, MXR Phase 90, Electro-Harmonix Deluxe Memory Boy, Strymon Flint, JHS Little Black Buffer.
Guitars:
Fender Jazzmaster
Fender Telecaster
Fender Stratocaster
Fender Mustang
Gibson ES 335
Amps:
1965 Fender Super Reverb
Benson Monarch
Favorite type of pedal (drive, delay, fuzz, etc. – more than one answer is always acceptable!):
My pedals are my babies, I can't pick just one! This is like "Sophie's Choice"!
I will say that one surprising thing that came out of the "LoveJoys" sessions for me was how often I gravitated towards vibrato tones. I have always leaned heavily on analog tape delays and rarely used chorus or vibrato when recording. However, for this record I wanted to get a little out of my comfort zone and expand my pallet.
I bought a JHS Emperor and a Strymon Lex while we were recording. Those two pedals ended up becoming my go to "secret weapons" whenever things were feeling stale and I needed a little something extra. I absolutely love them both. So much so that I think they've changed the way I think about the sonic landscape of my guitar parts in Pickwick.
Another fun "secret weapon" is my Sola Sound Yellow Tone Bender fuzz pedal. My friends at Mike & Mike's Guitar Bar here in Seattle turned me onto it and it's freakin' incredible. I've never heard a fuzz pedal that records the way this thing does. I'm pretty sure Kevin Shields from My Bloody Valentine uses one, too.
As far as I know, you can only find them in the UK and they might even be discontinued now. I had to do some internet snooping in order to track one down and I probably paid too much for it, but whatever…it's amazing.
Our producer Erik Blood calls it the "god fuzz."
You're stranded on a desert island – which three (3) of the following do you want to have?
Instruments: Fender Jazzmaster, Fender Stratocaster, 1965 Gibson SG Special
Amps: Benson Monarch, Fender Super Reverb, Vox AC 30
Pedals: Strymon Timeline (I'm saving up for one now), JHS Emperor, Sola Sound Tone Bender
What's up next for you/your band(s)?
The new Pickwick record "LoveJoys" came out on 7/7/17. We will start touring the US & Canada in late July and maybe get over to Europe at some point.
We finished recording "LoveJoys" in early 2016, so even though we're gearing up to go tour it, we're already thinking about the next record. It can be a little bizarre with the way record cycles work. You end up finishing something and by the time people actually get to hear it you as the artist have already moved on to the next thing.
There are a bunch of new songs and ideas floating around, so we're hoping to get back into the studio later this year.
The Klon hype: Love it or Hate it?
Personally, I hate it. Don't get me wrong, for what Klons do I think they sound incredible. I had the chance to use one on a recording a few years back and I loved it. But for the same price I could easily buy a new guitar, keyboard, Space Echo etc. I would much rather spend my money on something that adds a new color to my sound or something that sparks an idea that leads to a new song. If I were some rich, big shot rock star I'd probably get one, but I'm not so I have to get a little more creative when it come to my tone.
I've really fallen in love with low wattage amps like my Benson Monarch. Combined with my EarthQuaker Palisades, I can get really close to the Klon thing if I need it. For now, that's good enough for me.
Any last comments, promos or anything you'd like to talk about?
The new Pickwick album "LoveJoys" came out 7/7/17. You can find it on iTunes, Spotify, & indie record stores.
Support independent musicians. If you hate what's on the radio, start your own band!
Also, voting is important. Vote in EVERY election!
---
Thanks so much to Michael for taking the time to answer some questions! Make sure to go check out www.pickwickmusic.com, and check their tour page to see when they're headed to a town near you! Cheers!
---
GET EXCLUSIVE UPDATES, CONTEST INFO, SEE OUR LATEST DEMO VIDEOS AND MORE: