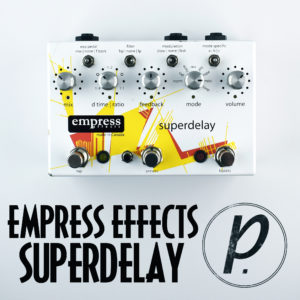 We have lots of fun with our delay pedals here at Pedal of the Day, and today's classic piece of gear is a favorite on pedalboards throughout the world. Both groundbreaking and inspiring, the Superdelay from Empress Effects does everything from basic delay sounds to outer space-infused tape delays, reverse stuff and much, much more. If you don't like manuals or experimentation with your delay pedals, you might want to look somewhere else for your echo needs…
The Superdelay gives you 7 delay modes to choose from, as well as an eighth that acts as a Looper (more on that in a minute). The Delay modes are Normal, Tap, Auto-Set, Reverse, Rhythm, Tape and Misc, with each one having three Sub-Modes that vary in action, and are controlled by a three-way toggle switch in the upper right of the pedal. These Sub-Modes range from delay time length to subdivision selection to tape compression levels to feedback and more. Speaking of feedback, there's a solo knob to control that as well, easily allowing you to set how long the delayed signal is present in your tone. The ratio here is higher than one as well, so when you set it fully clockwise, the feedback sound gradually gets louder and louder.
Your basic Mix control is next, blending your Dry signal and the Superdelay's effect. d Time / Ratio is a unique control, as it gives you the ability to control the delay time in non-tap modes, and control the ratio of the delay time relative to the selected tempo in tap modes, ranging from 1:4 to 1:1. The Tap switch lets you select your delay time on-the-fly, as well as selecting a Preset when you're scrolling through, muting the wet signal for one
'delay time'
period in Normal mode, and used to start Recording in the Looper mode as well. The Volume knob controls the overall output volume of the delay effect, too.
Want more? You got it! A Modulation switch lets you apply either Slow or Fast modulation to the delay, giving you excellent tape echo, warbled and wacky delay tones for days. The Slow setting gives off a more
subtle
modulation effect, while the Fast setting has a higher rate and is deeper and more intense. Not to mention the fact that you also have access to 8 Presets as well, which you can manipulate and save over and over again. Plus, as we mentioned before, there's a Looper function, giving you 13.6 seconds of sample and loop time, adding layers on top, using reverse looping and more.
While we wish that the Superdelay could be used in a Stereo setup, that's small beans compared to the amount of options and sounds it is capable of producing. As delay pedals keep getting better and better, we keep having more and more fun testing and demoing them, and this is a prime example of a powerful and excellent-sounding unit. If you're looking to take this pedal one step further, be sure to check out the Vintage Modified Superdelay as well – cheers!
Specs:
Killer Sound Quality – The Signal to Noise ratio is around 105dB.
2.8 Seconds of Delay Time – For your extra long delays.
8 modes – normal, tap, autoset (delay time is set by tempo played), reverse, rhythm mode (multitap), tape mode, misc (dynamic, gate), and 11 second looper.
Expression Pedal Input – allows you to control either mix or feedback with your foot.
High Pass/Low Pass Filter – high pass is good for electronic music, low pass is sweet for darker analog delay type sounds.
Fast/Slow Modulation – slow adds extra texture, fast is a little crazy.
8 Presets – Settings can be saved to 8 presets. With three stompswitches, accessing the presets is easy.
Tap Tempo with Ratios – many of the modes use tap tempo, and the ratio selection makes fast in-time delay times easy.
True Bypass – The Empress Superdelay employs true bypass, so you can be sure that it's not affecting the signal when disengaged.
Small Size – The enclosure measures approximately 5.7″ by 3.75″ by 1.75″, which is delightfully small when considering all the features packed into this unit.
GET EXCLUSIVE UPDATES, CONTEST INFO, SEE OUR LATEST DEMO VIDEOS AND MORE: