Michael Weavers
Christchurch, New Zealand
Flux Effects
www.fluxeffects.com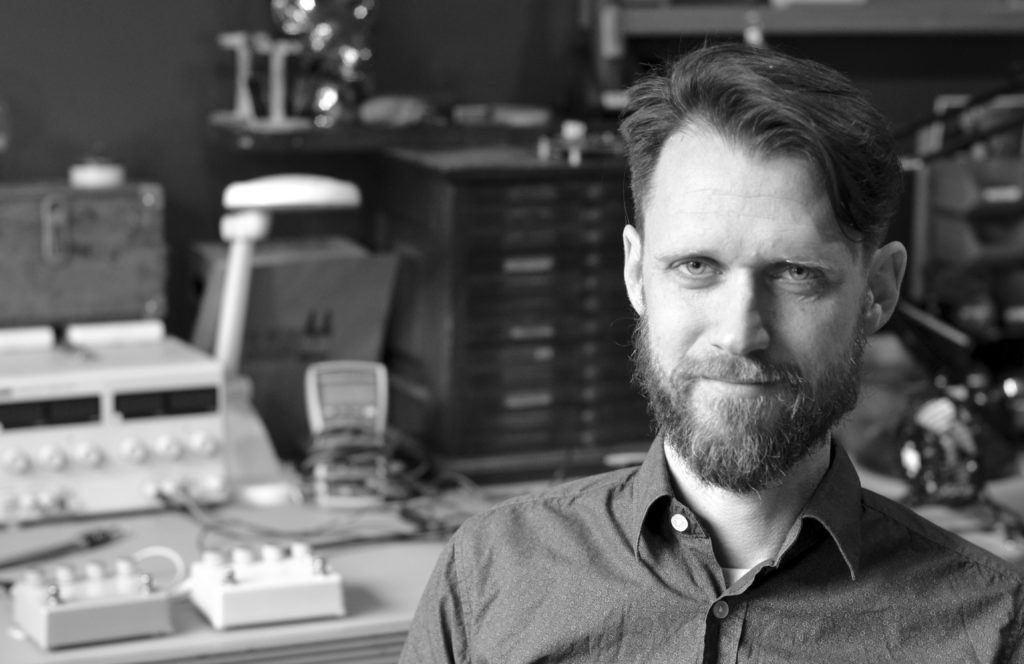 How long have you been a musician? How did you get into it in the first place?
I started playing guitar and drums when I was 15. We had a crappy nylon-string acoustic guitar with a cracked neck lying around which I began playing around with. I'd try to play U2 songs off the Joshua Tree album with the 3 chords I had learned. In my late teens I bought a Cort headless to muck around on, and a CE-2 and DL-10 (I still have those 2 pedals). But I spent more time playing drums than guitar.
Who have been some of your major musical influences, past or present?
U2, Rush, Pink Floyd, Eight, Coldplay, Mutemath and more recently Dead Letter Circus.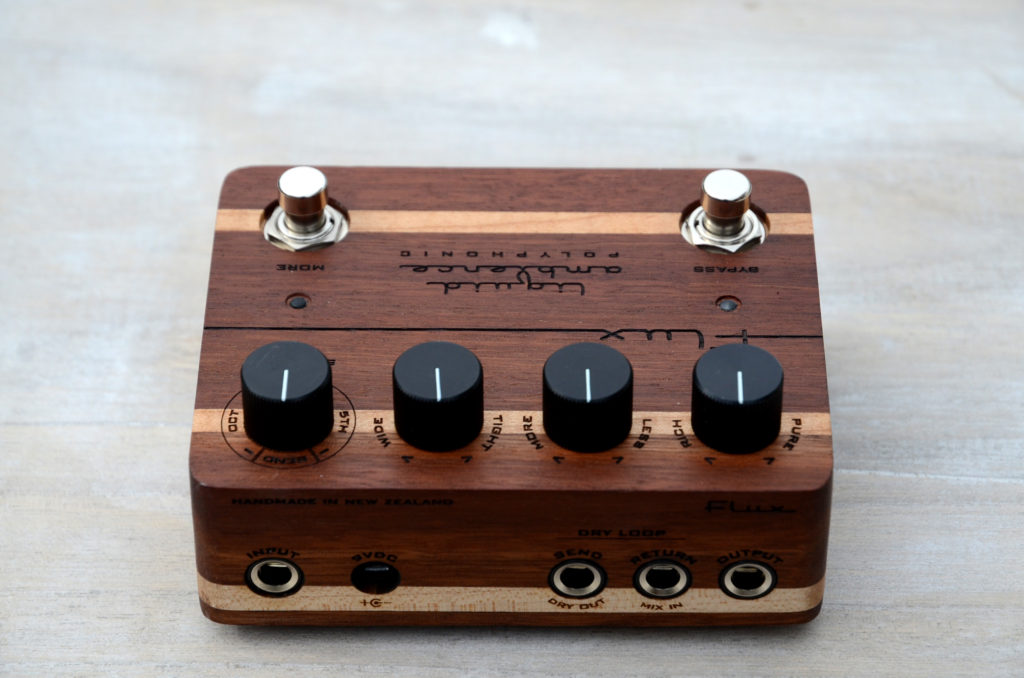 What led to the start of Flux Effects? How long have you been in business? How big is your operation/how many employees do you have?
It was a culmination of my passion for music, electronics and product design that led me to start the company back in 2003. I didn't actually manage to produce my first product (the Liquid Tremolo) until the end of 2012. I finally dug deep to finish this long-term design after being fed up with the wake of the major earthquakes we had here in 2011 and needing a creative outlet. We are still a lean part-time operation which involves mainly myself and a friend of mine who does the board loading on a batch-by-batch basis. My wife also helps do the photography and various other things. I operate the business from home and work 1 full day a week plus evenings. I try and outsource as much as I can to local companies (like powdercoating & screen printing) in an effort to reduce the in-house workload. For now, this is us. But we will have to expand at some point!
Did you have formal schooling, or are you self-taught? Take us through that story:
I studied Electronic & Computer Engineering back in the early 90's and eventually landed a job at our local University developing and building customized instrumentation and control equipment for use with various research endeavors. I've been there for 20 odd years now doing analog design, microcontrollers and software.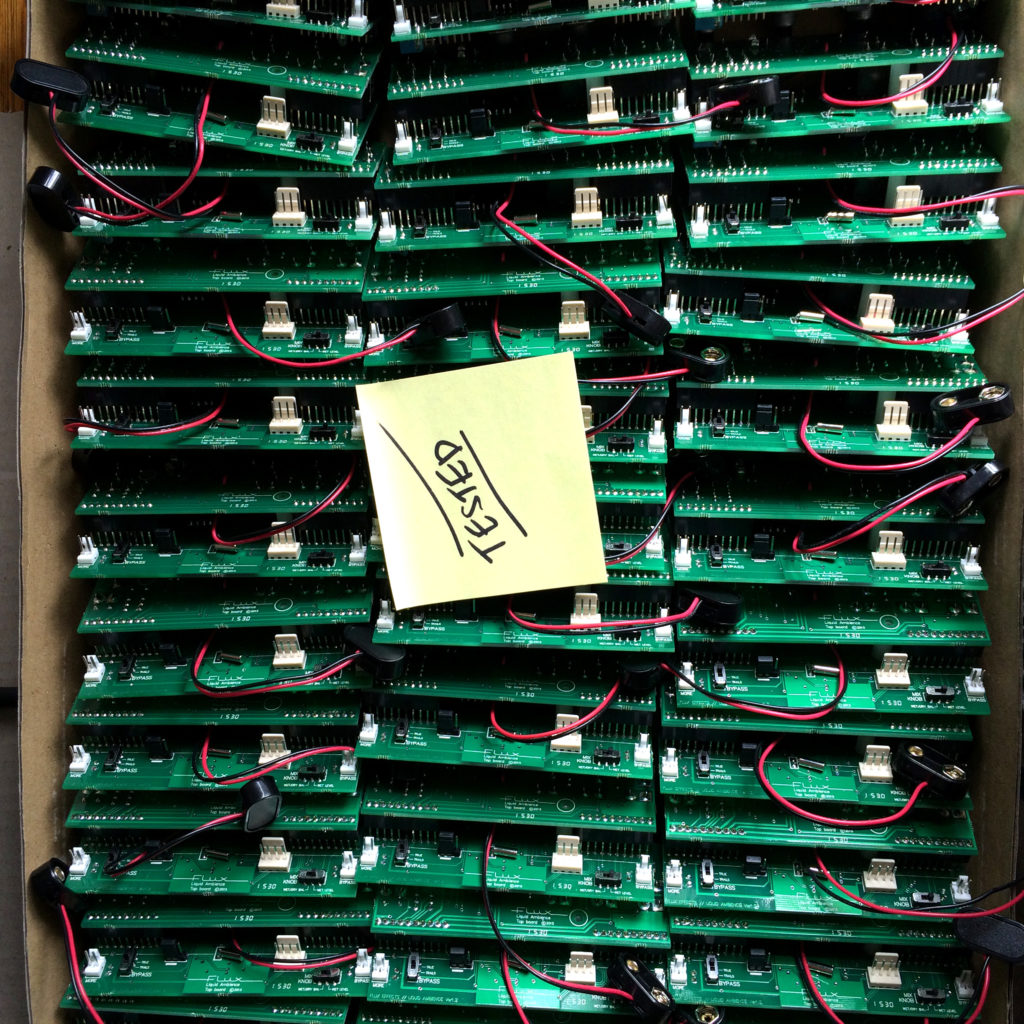 What drives you as far as new pedal creation is concerned? How long does it typically take for an idea to come full circle and become a demo pedal? What's the process behind new gear, and the eventual release of it to the public?
It starts with a concept – a unique feature or entire product concept. I don't want to create products that are "me too" products. It's got to be unique enough to stand out. The concept is not just about the audio and functionality, it's also the look and feel of the product, the name, the colors… the whole picture. Different designs take different timeframes. The Tremolo took years of stop-start work, and 4 prototypes, but that was also mixed in with deciding how the company branding would look and feel. The Liquid Ambience took less than a year and 2 prototypes. The stereo version took a few months. I have 2 other designs at different stages, one of them (a delay pedal) is in its 2nd prototype and has already been 2.5 years in the making (again stop-start work). The 2nd prototype (now heavily modded) sounds amazing but still has a couple of creases to iron out. The other product is still conceptual – I don't know if it's going to sound any good yet, but I have high hopes for it. I usually do the first production run in a small batch for 2 reasons: (1) to see how it sells (2) in case there are production problems with the initial batch – it's easier to modify 50 boards than 100. I also ship my pedals with an extensive operation booklet which has to be written and illustrated. So it does take a long time for the first run before release to the public.
What are some of the biggest concerns facing your profession today?
Market saturation is the biggest concern. But it also creates the best challenge. If your product can rise above the noise of a busy market then you've done it right. That's the thing I relish.
Where do you see pedal building going in the future?
Multi-effects seem to be on the rise for touring musos as they produce excellent effects and are a robust light-weight solution for touring. But I can't see them fully replacing the flexability and uniqueness you get with making up a pedalboard of discrete pedals. MIDI functionality is on the rise too, expression control, tapsync capability, presets and all those features a microcontroller can offer when combined with an analog design are becomming more and more common. We are now at a point where both digital and analog pedals enjoy market respect for their own merits, and I see this continuing. Distortion & overdrive have been notoriously difficult to reproduce well in the digital domain but we are now seeing designers delving into this using modern DSP techniques. I think this is new territory that may have some interesting opportunities for innovation.
Who are some of your favorite builders in the industry right now?
Chase Bliss Audio, Walrus Audio, Caroline Guitar Co, Bondi Effects, 80Tape, Retro Mechanical Labs and Meris are a few I enjoy following.
Name the last 5 records you listened to:
1. Mutemath – Armistice
2. Pink Floyd – Wish You Were Here
3. Dead Letter Circus – Aesthesis
4. The Police – Ghost in the Machine
5. The Helpful – Relationships are the Stuff of Life, James
The Klon hype: Love it or Hate it?
I love that a mythical-themed pedal has reached mythical status. The tones it produces I'm sure are only subtle variations on other similar topologies, but it has earned its street cred in my books.
Any last comments, or anything you'd like to talk about?
Yes. Everyone, can we please retire the 9V battery? (lol)
---
Thanks so much to Michael for taking the time to answer some questions! Make sure to go check out www.fluxeffects.com to peruse all of their gear – Cheers!
---
Check out some other recent interviews here:
Michael Parker of Pickwick
Kevin Wilson of Wilson Effects
Efren Castro of Paradox Effects
Clayton Donofrio of American Wizard Toneworks
---
GET EXCLUSIVE UPDATES, CONTEST INFO, SEE OUR LATEST DEMO VIDEOS AND MORE: