Our third and final (just for now, hopefully) review and demo of a pedal from our Italian friends AC Noises is a sure-fire powerhouse of an effect. The Combatti (meaning "fight" in Italian) is an overdrive and distortion pedal that isn't much on clean tones, and has no desire to be. Featuring a simple control panel and a wide range of dirt sounds flowing out of this salmon-colored creation, it's sure to get your amp shaking and your audience's heads bobbing.
The three control parameters are nothing you haven't seen before. Volume sets the Output, Tone changes your frequency options and Distortion sets your gain. These create an extremely expressive distortion sound, or roll back the gain for a tasty, warm overdrive tone. The Combatti has an additional trick up its sleeve, too, in the form of a three-way clipping toggle.
The middle toggle position is your standard mode, with an open and dynamic voice. Switch it to the Upper position, and the Combatti's sound becomes compressed, and the mids get scooped out, making it great for rip-roaring solos and leads. Finally, the Down position provides slightly less compression, but gives your low end a boost, perfect for big, fat rhythm sections and sustained chords. These three modes really open up the sonic possibilities here, and with a great range from both the Tone and Distortion knobs to mix in, you've got a never-ending palette of sounds to work and play with.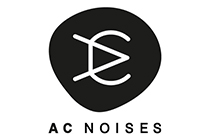 All in all, the Combatti is one solid piece of dirt, offering a broad selection of sounds with minimal tweaking involved to get really rocking and rolling. Are we looking forward to more effects pedals from AC Noises? Absolutely! Here's hoping for some more reviews in the near(ish) future, but in the meantime, don't be shy about heading to their site and ordering a couple of their effects while you wait…
GET EXCLUSIVE UPDATES, CONTEST INFO, SEE OUR LATEST DEMO VIDEOS AND MORE:










More info at: