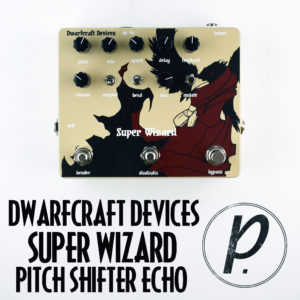 Every time we get a new piece of equipment in from our Wisconsin pals at Dwarfcraft Devices, the anticipation and excitement are at full capacity. Today's pedal was no different, perhaps even more so, as we had had our eye on it for a little while, and couldn't wait to delve in. The Super Wizard describes itself as a pitch shifter and echo pedal, but it's SO. MUCH. MORE. Keeping with the tradition of Dwarfcraft's experimental nature, get ready to be whisked away and taken on a sonic journey like no other you have yet witnessed…
The Pitch Shifter side of the Super Wizard features some brilliant pitch shifting qualities, along with a couple of sonic surprises along the way. The Pitch controls the pitch, Mix controls the blend and Volume does, well, you know what it does. The Speed control livens things up a bit, cross-fading the Wet and Dry signals, for auditory exploration into the heart of darkness. Press the Bender switch and listen to this effect skyrocket into outer space, conjoining the pitch and your signal's decay into one glorious mess of sonic fury. The Dindindin takes on similarly startling properties, as it suspends recording going to the input buffer, leaving you with a big, dirty sample hold function to play with to your heart's delight. Hold both of these switches down simultaneously and set the controls for the heart of the sun.
The Echo side of the Wizard features your typical control section, but with a deliciously fantastic twist. While the Delay, Feedback and Mix controls might seem a little safe, the Mutate switch is where this effect really comes to life. Flip this toggle and the pitch shifter side comes into play in spades, throwing itself BACK into the feedback loop of the delay, creating a whole new world of sounds you may not have heard before, or even thought were possible to make via an effects pedal. This mixed with the Bender and Dindindin functions really open up the Super Wizard, tossing out everything you thought you previously knew about sound, life and the universe.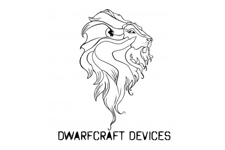 Still not satisfied? Fine, there's more. An Insert jack lets you add other effects into the Super Wizard's Effects Loop, opening up even greater possibilities, and taking the term "exploring" to new and wonderful heights. Not surprising from the minds of Dwarfcraft Devices, but shockingly awesome nonetheless, the Super Wizard is almost indescribable, an effect that you must truly experience in person to fully appreciate. That's not to say that you shouldn't watch the demo video below to see a sampling of what it can do, by any means, so please go ahead and do that. Then, when you've reveled and basked in all its glory, head over to the Dwarfcraft website and see if there are any available for your own collection. Don't sleep on this one, folks…
GET EXCLUSIVE UPDATES, CONTEST INFO, SEE OUR LATEST DEMO VIDEOS AND MORE: