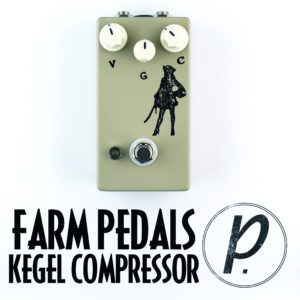 Another compressor pedal, you say? Well, this one is a bit different than the one we reviewed earlier this week, the Lamplighter from Greer Amps. Where that one focused on studio compression in a pedal, the Kegel Compressor from Farm Pedals can get down and dirty, with enough squeeze to make your tone sparkle and pop. All we know is, a compressor with a Gain control sounds absolutely OK to us!
V controls the overall output volume of the Kegel Compressor, while C adjusts the compression. This tan prince boasts a good deal of compression, too, getting nice and squishy when cranked, yet delicate and tasteful when dialed back a bit. A very natural and organic sound, the compression isn't too overpowering or too transparent….it's just right. The G (Gain) knob livens things up as well, with smooth, clean and crisp compression tones available when turned all the way to the left, and more dirt and less compressed sound when maxed out. A big range of sounds between these two extremes leaves you a lot of room to play and experiment, as every good compressor should. This control is also an excellent option to really drive your favorite tube amp into sweet, sweet saturation.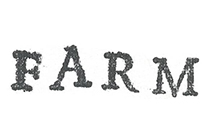 With each of the pedals being handmade and hand-painted in Maine, no two Farm Pedals are ever identical, giving you a true original whenever you come across one. The Kegel is available in true bypass (which we are reviewing) or buffered (has a "B" stamped on it) models, giving you yet another option as to how you want to use this pedal in your specific setup. An excellent addition to your rig, this is a slightly different compressor than you might be used to, but one you'll fall in love with regardless. Cheers to the hard-working farmers at Farm Pedals for another great effect -we're hoping to have more of their gear to review soon, so stay tuned, and don't forget to check out their shop on Reverb.com!
GET EXCLUSIVE UPDATES, CONTEST INFO, SEE OUR LATEST DEMO VIDEOS AND MORE: