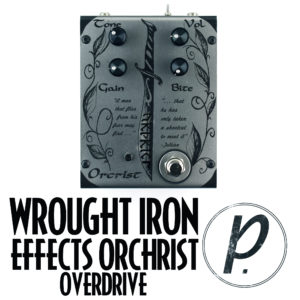 There's some funky stuff going on over at Wrought Iron Effects, and in the best way possible. Recently, we reviewed their Aslan Overdrive, which whisked us away to Narnia and beyond. Today, we're checking out the Orcrist Overdrive, a Tolkien-inspired dirt pedal that speaks to the Middle Earth nerd in some of us, but will provide a powerful boost and drive for players of all walks of life.
A bipolar transistor overdrive, the Orcrist is voiced for lots of low-mids, lows and low harmonics, while retaining warmth and presence throughout. Unlike a lot of op-amp overdrives, it also gives you lots of break-up without the high-gain sizzle that can sometimes occur. Volume, Tone and Gain controls are your standard fare in the control section, allowing for much sonic flexibility in all their respective ranges, but then the Orcrist takes it to another level.
A fourth control knob, labeled "Bite," adds another dimension from the depths of this silver fox, giving you more treble and gain to the final gain stage, for an extra bit of juice to throw onto the top of the overdrive. Plus, for an even more dialed in option, there's a toggle switch located on the back of the pedal, near the input and output jacks. Here, you can choose to run the Orcrist in regular 9v mode (Biter) or flip it to go into 18v Charge Pump mode (Goblin Cleaver) for a boost of volume and more headroom, further enhancing your overdriven experience. The bypass LED even glows blue, like the Elven-fogged sword in "The Hobbit" that this effect is named after.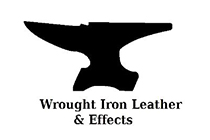 Continuing the awesome fantasy world theme we saw in the Aslan Overdrive, the Orcrist Overdrive takes us on a magical journey of sight and sound through Middle Earth, and gives off some pretty rad tones along the way. We love it when pedals come our way that have been designed basically from the ground up, with intricate aesthetics and gorgeous amp-boosting sounds abound. Cheers to our pal Ed Chew and all at Wrought Iron Effects for another great creation – we're hoping to see some new stuff from them soon, and when it's available, we'll have it here for you guys to check out, so stay tuned!
GET EXCLUSIVE UPDATES, CONTEST INFO, SEE OUR LATEST DEMO VIDEOS AND MORE: