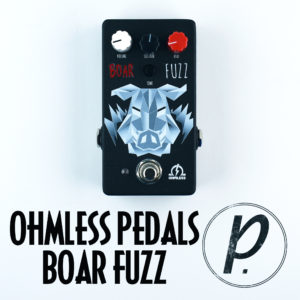 Today's featured pedal is kind of a 2-in-1, which you know we dig here at Pedal of the Day. Part fuzz, part distortion and all-powerful, the Boar Fuzz from Ohmless Pedals produces a broad spectrum of dirt tones, waiting to be unleashed from inside a smaller-than-usual enclosure, perfect for adding to any pedal setup. With simple controls and one fun additional knob, this effect will have affect on your tone, effectively and affectionately.
The Volume knob gets things going here, controlling the overall output volume for the Boar, and trust us, it's not lacking one bit in this department. Sustain is up next, setting the amount of sustain and fuzz present in the signal. The Tone knob, through smaller, helps to shape your tone's EQ, controlling a wide range of low, mid and high frequencies. These knobs are all pretty standard in the world of dirt, but this particular pedal has a couple surprises up its sleeve.
The main one is the Bias control, something some of you might be familiar with, and the rest will want to be immediately. Bias changes the internal transistor's voltage, giving it more or less juice, depending on where you set it. This leads to some ground-breaking sonic experimentation, especially when used with the Sustain and Tone controls, really opening up the possibilities this fuzz can provide. There's an internal trimpot as well, which allows you to set the maximum gain and sustain to your personal preference. If these weren't enough to peak you interest, you can also get the Boar with a standard 3PDT bypass switch, or a soft switch, whatever your distortion-loving heart desires.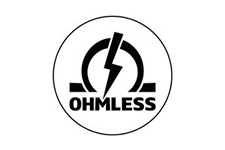 Wired for true bypass, featuring Neutrik jacks for durability and a slew of sonic options to play with, the Boar Fuzz gives you everything from heavy distortion to beautiful fuzz fatness, and everything you could want in-between. Coming to you straight from Germany, the crew at Ohmless Pedals keeps cranking out high quality gear with innovative design and fun artwork, and are showing no signs of slowing down anytime soon. Thanks to them for sending the Boar across the pond for us to check out, make sure YOU go check out their website and see what else they've got to offer.
GET EXCLUSIVE UPDATES, CONTEST INFO, SEE OUR LATEST DEMO VIDEOS AND MORE: