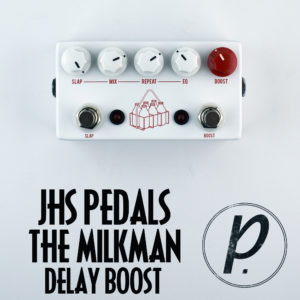 Criss-crossing effects types in the pedal world to produce one marvelous sound machine is always a welcome sight to us, and today's featured pedal embodies the genre-jumping we're talking about with gusto and pizazz. Combining a quick slap/echo type of delay with an easy-to-use boost, The Milkman gives you a couple of great sonic options without being overpowering, and makes for an excellent always-on pedal.
The Echo/Delay side of The Milkman features a slap-centric effect, with a maximum delay time of just 240ms, making it easy to dial in the perfect amount of slapback goodness. With controls for Slap (delay time), Mix (delay level), Repeat (number of echoes), and EQ (tone), it's not rocket surgery figuring out how it works once you sit down and plug it in. Get your chicken-pickin' on in an instant, or experiment a little with the controls to find a sound unique to you and your playing.
The Boost side is classic JHS, with one simple knob to adjust the level of output. A discrete amplifier-based circuit with tons of power and character, it adds clarity to your tone, and can be used independent of the delay portion as well. Drive your amp to the sweet spot, kick your tone up during solos or use as an always-on preamp – the choice(s) are yours to explore.
Designed in collaboration with Tim Marcus from Milkman Sound, The Milkman Delay Boost easily enhances your tone with a pedal that never needs to be turned off. Its small, horizontal footprint also makes it a key puzzle piece in the Tetris game you call a pedalboard, fitting in just about anywhere you need without eating up too much prime real estate. Great for country, rockabilly, swing, surf, or any other style of good old American twang, it's a powerful ingredient to add into your sonic stew. Thanks to JHS Pedals for letting us check it out – be sure to watch the demo below and subscribe to our YouTube channel as well!
GET EXCLUSIVE UPDATES, CONTEST INFO, SEE OUR LATEST DEMO VIDEOS AND MORE: