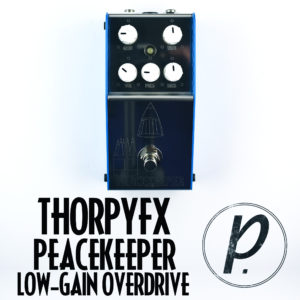 Ever since we had the pleasure of checking out the Gunshot Overdrive from ThorpyFX last year, we've been itching to get our hands on another one of their beautiful metallic creations and see what it could do. Well, the day is upon us, friends, as we check out the Peacekeeper Low Gain Overdrive, a clean boost/dirt pedal designed to enhance your tone and give your sound that missing sparkle you've been searching for.
Volume starts off the control section here, with plenty to work with despite the "low-gain" part of the name. The Presence control adjusts the mids before the gain stage, so users can decide how much midrange gets eaten up by the drive section. Processing the actual overdriven signal are powerful Treble and Bass controls, keeping the tone crisp and punchy.
The Gain knob on the Peacekeeper creates a unique sonic realm all by itself. Creating a gorgeous clean boost effect at low levels, the more you crank it up, the dirtier and saturated it gets, while still maintaining crystal clear tones that pour and ooze out of your amp. Although not too distorted when maxed out, you can get a wide range of boost/drive sounds with minimal effort. The word "Klon" gets tossed around in regards to the Peacekeeper, too, but rest assured, it is in a class all its own.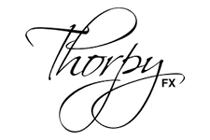 Built using premium 1% metalfilm resistors, Wima and Panasonic capacitors, Neutrik jacks and a Burr-Brown Opamp, the Peacekeeper Overdrive also features a robust gold plated PCB and dust sealed potentiometers. No skimping on internally quality or pleasing aesthetics, this original circuit takes drive/boost tones to another level, and is sure to get heads turning when the gleam of the stage lights bounces off this shiny beast into your fans' eyes. Thanks to innovative industrialist Adrian Thorpe and all at ThorpyFX for having us put this bad boy through the paces – hopefully it won't be another year and a half before we come across another one of these marvelous creations in our office.
GET EXCLUSIVE UPDATES, CONTEST INFO, SEE OUR LATEST DEMO VIDEOS AND MORE: