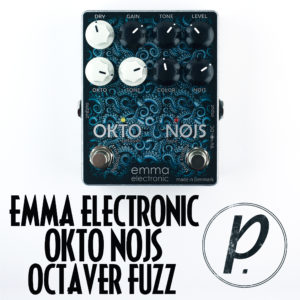 Whenever a weird, un-categorizable pedal comes our way, especially if it has a name we can't quite pronounce, we become instantly intrigued. Today's pedal, the Okto-Nøjs Octaver Fuzz from Emma Electronic checks all of these boxes, and produces some killer effects sounds as well. An octave effect and fuzz pedal in one, strange sounds lurk about deep within this creature, waiting to be released is a fiery ball of sonic fury.
The Octave (Okto) section of the Okto-Nøjs is super-accurate and fast-tracking, two key ingredients that a lot of octave pedals in the past have missed completely. Working deliciously on both guitar and bass, the low end is beefed up significantly, and works wonders all across the fretboard, not just certain sections of it. Use the Dry knob to blend you main signal with the effect, Okto to adjust the amount of octave you want present and Tone to tame the highs and lows as you see fit.
The Fuzz (Nøjs) section is a super-versatile octave-infused fuzz, and features a wide range of tones to experiment with. Start off in smooth overdrive territory, and slowly adjust the Gain and Tone knobs to dial in your perfect amount of dirt. Responding incredibly to your playing dynamics, this part of the Okto-Nøjs is a harmonic distortion generator, capable of inventing spitting, swelling and even synth-like fuzz tones with ease. The Nøjs control blends in a square wave sub-harmonic, and works with the Color control to create thick and heavy or edgy and aggressive tones, again sporting a wide range within these two parameters.
100% analog and true bypass for the best sound quality possible, the Okto-Nøjs is just what the low-end doctor ordered for a can't-live-without effects pedal. Killer on bass for emphasizing those low frequencies, and great on guitar for adding some beefy, chunky tonal boost, this pedal is in a class of its own, and is just what we've come to expect from the crew over at Emma Electronic. Cheers to them and Godlyke Distributing for another job well done – be sure to check out the demo below, and then get your Google on to find out how to get your own FAST!
GET EXCLUSIVE UPDATES, CONTEST INFO, SEE OUR LATEST DEMO VIDEOS AND MORE: