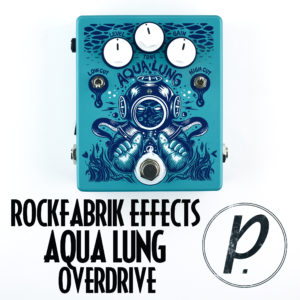 Are you a sucker for aesthetics when it comes to your pedal collection? Not that it makes or breaks a purchase, but we love a good graphic and layout, and today's pedal takes us on an exciting journey of sight and sound. The Aqua Lung Overdrive from Rockfabrik Effects is an overdrive with a few common controls and a couple of added options for a wide range of sonic flavors to behold.
Like most in the overdrive world, the Aqua Lung features Level, Tone and Gain control knobs, perfect for dialing in the volume, eq and dirt amount that you need. Fairly transparent as well, this teal box fits in well in any style of music, and can do everything from a gorgeous clean boost to a chunky and warm, mid-gain drive sound. Turn the Gain back and pump up the Level and Tone, and your original signal is cleanly enhanced, with a little added sparkle and pizazz.
Two toggle switches also are onboard here, and both are key in creating a wide array of sounds. The Low cut switch clips under 750hz to provide option between bodied and juicy sound, while the High cut switch clips upper 1,2 khz to defeat harsh sound for humbuckers. This switch also provide burst sound for single pickups without cut, and is specially designed for neck pickup of strat. Both of these options let you play with sound and explore how the Aqua Lung can affect and strengthen your original guitar tone.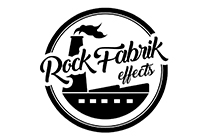 Think of the Aqua Lung as not only a boost or an overdrive, but as a real tone enhancer. Yes, that phrase is thrown around an awful lot, but it is accurate in most cases, and certainly is with this blue-hued beauty. A great first or second-stage drive, this guy will not let you down, and will help to expand your mind and creativity on the guitar as well. Thanks to the folks at Rockfabrik Effects for getting this one to us – stay tuned for our review of their dirtier, meaner pedal, the Mind Abuse, coming soon!
GET EXCLUSIVE UPDATES, CONTEST INFO, SEE OUR LATEST DEMO VIDEOS AND MORE: