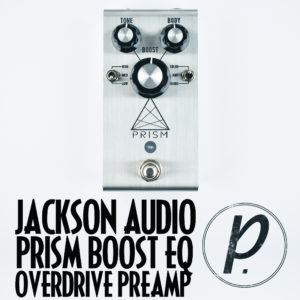 It's always a treat when we get a 2-in-1 pedal to check out here at Pedal of the Day, and even cooler when we get a 3-in-1 effect. Today's pedal blows right past these and gives us a rare and unsurpassed FIVE-in-1 stompbox, something that sounds complicated, but in reality is just easy to use and produces great sounds. The PRISM from Jackson Audio is a buffer, boost, EQ, overdrive and preamp all rolled into one – we've got a lot to chat about with this guy, let's get the show on the road!
The PRISM has been designed as the "ultimate tone shaping tool for a player's pedalboard," and that pretty much sums it up in one succinct statement. Boost is the main control knob here, and as you might guess, adjusts the amount of boost the pedal provides. One key feature on this pedal is its LED, which slowly moves from different color to different color the more you turn up the Boost knob, until finally reaching a warm red when cranked up. The EQ section is active, and handled by two knobs, Tone and Body. Tone handles the high frequency adjustment, while Body takes care of the low end, each sporting a +/-15dB boost/cut to their frequencies – a perfect pair to dial in a perfect tone. The nice thing here is, the controls have ZERO interaction with each other, letting you truly get the most out of each side of the EQ.
The first toggle switch present on the PRISM is a Pre Gain switch, allowing you to select from 3 distinct levels of gain for each boost circuit. Low is voiced for maximum clean headroom, Med has more mild breakup and rhythm-types of tone, and High gives you heavy breakup and scorching lead tones. These all work in conjunction with the second toggle, which selects which boost circuit you'd like to use. Color features a vintage silicon treble booster style circuit (think Brian May) for rhythm and lead tones. Amp is a musical-sounding MOSFET boost, emulating an overdriven tube amp, and Trans is an ultra-transparent JFET boost, for louder yet crystal clean tonal shaping.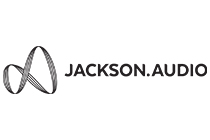 The silent switching circuitry uses relays with a soft touch momentary contact footswitch for bypass/engage, and at the end of the PRISM they included a high current buffer, to ensure your tone is strong and your tone is preserved. All this, along with a custom designed stainless steel enclosure with laser engraved artwork and high quality interior components, make it a unique and incredibly useful effects for players of all types and genres. Don't be fooled by it's high-end looks and futuristic appearance: it is all of those things and more, not to mention the gorgeous sounds it produces. Cheers to the guys at Jackson Audio for this wonderful creation – use this link here to head over and grab one of these for yourself – it will change the way you sound, and how you even approach your instrument…for real.
GET EXCLUSIVE UPDATES, CONTEST INFO, SEE OUR LATEST DEMO VIDEOS AND MORE: