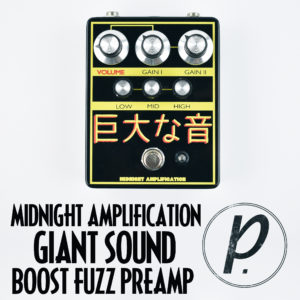 Somehow, we hadn't yet discovered the company building today's featured pedal until now, and we're sure excited that we did. Midnight Amplification Devices hail from Brisbane, Australia, and feature an eclectic lineup of effects over a variety of musical genres. We're checking out the Giant Sound Boost Fuzz Preamp today, and have a couple more pedals from these guys in the queue for review as well…
Modeled after the Sunn Model T amplifier's preamp, the Giant Sound features two separate gain stages and a three-tiered EQ section, for a slew of tonal flavors. The Low, Mid and High control for the equalization portion of the pedal give you a huge amount of flexibility, as opposed to just having a lone Tone knob. This makes the Giant Sound perfect for other instruments as well, wit the dialing in of the tone a cinch to figure out.
The two Gain controls are a welcome feature, too. Interacting a different settings with each other, there's a myriad of dirt options here, ranging from clean boost to warm overdrive to fuzz-like tones, and everything you could want in between. Dial back one knob and crank the other, then swap, then investigate and explore some more – there's really no wrong way to do it, and therein lies the fun of this pedal.
Perfect for a tone-boosting addition to your rig, or a centerpiece pedal on your pedalboard, the Giant Sound does a LOT of different things, each one bringing new creativity to your tone and sound. Cheers to Nic and all at Midnight Amplification Devices – stay tuned for more reviews of their gear in the coming weeks, and be sure to visit their site to see the complete lineup of effects waiting just for you!
GET EXCLUSIVE UPDATES, CONTEST INFO, SEE OUR LATEST DEMO VIDEOS AND MORE: