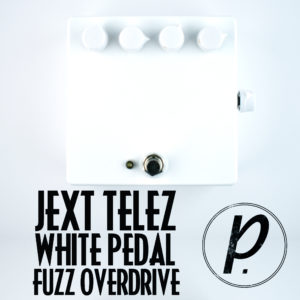 Pedals that are based off of old, classic amplifiers tend to produce some really incredible overdrive tones, and today's featured pedal emulates a couple of vintage amps and sounds to perfection. The Vox Supreme, Defiant, Conqueror and Virtuoso amplifiers had a fuzz/drive built right into them, and were used to record many, many songs you know and love by The Beatles and The Rolling Stones. The White Pedal Fuzz Overdrive from Jext Telez aims to recreate these sounds, and does a damn fine job.
As you can see, the White Pedal is aptly named, with a brilliant, stark white finish and no labels for any of the controls. Luckily, they're not TOO difficult to decipher: Volume, Gain, Treble and Bass make up the four controls on the main row, knobs that any good fuzz or drive pedal has. The EQ section, as well as the characteristics of the overall fuzz and tone have been accentuated and fine-tuned, giving you the ability to really dial in a wide range of sounds, from classic rock and British Invasion-type stuff to more modern alternative tunes and more.
The lone knob on the side is a MidRangeBoost control, which bears the moniker YOKO. This selector switch gives you a couple of different Mid Frequency modes to select from, and these all work in conjunction with the Gain and EQ sections, for a slew of tones you never thought could come out of just one effects pedal. Add in a heavy fuzz effect before the White Pedal, tweak the YOKO selector and turn the Gain down, and you get a wonderful mid-boosted fuzz tone, that's really unique and exciting to hear.
Not just for guitar, either, the White Pedal sounds great with bass, synths, electric pianos and more, making it a useful studio tool, as well as an on-stage enhancer in many different musical applications. Classic rock one-stop-shopping right here, folks – this may be the pedal and sounds you've been looking for since the mid-60's. Thanks to the folks at Jext Telez for their excellent communication about this pedal, and for creating a lineup of effects that are interesting, innovative and great-sounding as well. We'll have some more reviews of their gear in the future, so check back soon!
GET EXCLUSIVE UPDATES, CONTEST INFO, SEE OUR LATEST DEMO VIDEOS AND MORE: