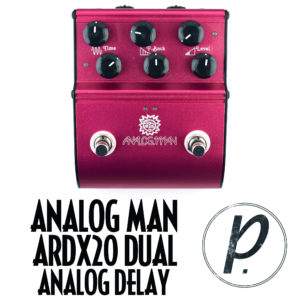 The name Analog Man is right up there with the top dogs in the effects pedals industry, a company that makes reliable, excellent-sounding gear for use by every type of player you can think of. Today's featured pedal is an excellent example of their work and craftsmanship, and of the sonic prowess they consistently bring to the table. The ARDX20 Dual Analog Delay features two independent echo channels, and a delay warmth that only a true analog pedal can give you…
Each channel of the ARDX20 Delay features the same control section. Time sets your delay time, which ranges from 36ms up to the 600/650ms mark, for plenty of fluctuation in your echo. Feedback sets the number of repeats after the initial note, and will do an almost loop-like infinite repeat at around 3:00, with crazier tones up past that setting. Finally, Level lets you adjust how present the effect is in the mix, whether you want the delay to be a bit under the radar, or bold, loud and present.
Noise can be a problem with a lot of older analog delays, but Analog Man has found some magical way to reduce the noise significantly in the ARDX20. The high fidelity repeats give you the classic sounds you're looking for, nice and dark, but without all the excessive sound that can accompany those repeats. You can even set the Volume of the repeats via an internal trimpot, to make it really stand out and give off an in-your-face analog delay tone. Wanna get even crazier? There are jacks up top for an Effects Loop, which you can use with a Y-cable, and an Expression Pedal, which controls the delay time via a Boss EV5-type pedal.
Analog? Check. Two delays in one? Check. Warm delay tones abounding for years to come? You got it. This one is the older model, as the new one features a flat box enclosure and a couple of internal upgrades, but this guy sounds amazing. Quality build, beautiful and bold color and some of the best modern analog delay tones we've heard, the ARDX20 Dual Analog Delay is in a class by itself. We're hoping to come across some more Analog Man gear here in the near future, so stay tuned, and make sure you check out the demo video below!
GET EXCLUSIVE UPDATES, CONTEST INFO, SEE OUR LATEST DEMO VIDEOS AND MORE: