John Mark McMillan
Nashville, TN
www.johnmarkmcmillan.com
How long have you been a musician? How did you get into it in the first place?
I've been trying to play music since I was in my late teens. One afternoon a good buddy of mine brought his guitar over to the house and could play all these REM, Weezer, Pearl Jam, and Nirvana songs form the radio. I wasn't good at sports so I figured guitar would be a better way to impress girls. It didn't work, but I fell in love with music and kept it up.
Who have been some of your major musical influences, past or present?
Springsteen, Frank Sinatra, Tears For Fears, The Talking Heads, Flaming Lips, Bob Marley, Bob Dylan, Kung Fu movies… I'm influenced by all I hear around me every day!
What drew you to using pedals initially? Have you been using them throughout your playing career? How have pedals helped to shape your sound, or influence the style that you've created?
I wanted to "wah" like Jimi Hendrix. My first two pedals were probably a Dunlop Crybaby, a TS9, and a Boss Metal Zone.
What's your current setup look like? Take us through your pedal rig (feel free to include amps and instruments as well if you'd like):
I switch between my Elliott Tonemaster, Gibson 335, and an 80s Strat. My main amp these days is a Tyler JT-14.
I'm a rhythm player so I don't need much. I use a JHS Prestige (this is my favorite pedal of all time), JHS Morning Glory (sometimes I use 2 with different settings for different guitar options), a JHS Emperor, a JHS Pink Panther that I use mostly for slap back, a small Holy Grail Reverb, and a Boss RV-5 – I use the modulated setting only for wild crescendos. Also, I keep hard candy around to soothe my vocals.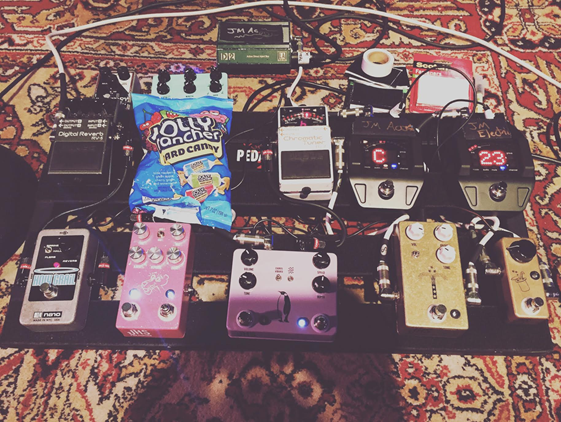 Favorite type of pedal (drive, delay, fuzz, etc. – more than one answer is always acceptable!):
I love the JHS Prestige cause it sounds like an amp turned up!
You're stranded on a desert island – what do you want to have?
Just my J-45.
What's up next for you & your band?
We're finishing the Mercury and Lighting Tour in October / November then taking a big break and going to work on new music!
The Klon hype: Love it or Hate it?
I honesty couldn't tell you. I hear the word thrown around but never paid much attention.
Any last comments, promos or anything you'd like to talk about?
Check out the tour going on through November and my new record Mercury & Lightning. And look out for new projects to drop next year!
---
Thanks so much to John for taking the time to answer some questions! Make sure to go check out www.johnmarkmcmillan.com to peruse all of their gear – Cheers!
---
Check out some other recent interviews here:
Alexandre Ernandez of Anasounds
Ben Deane of Monarch Musical Devices
Michael Weavers of Flux Effects
---
GET EXCLUSIVE UPDATES, CONTEST INFO, SEE OUR LATEST DEMO VIDEOS AND MORE: