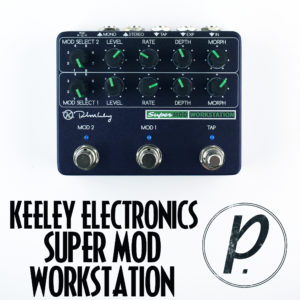 Continuing their status as one of the top-of-the-heap companies in the effects pedal world, Keeley Electronics introduced some multi-effects boxes to the world last year, and we're lucky enough to have one of them to check out today. The Super Mod Workstation covers more ground than it probably needs to, or should be able, which is definitely NOT a bad thing. With more effects and parameter settings than you'll know what to do with, this little blue beauty is one fun ride…
Two footswitchable banks contain eight different modes EACH, with a slew of parameters to control, set and explore a myriad of tones with. The Mod 1 Bank features Tremolo, Harmonic Tremolo, Filter, Phaser, Rotary ADT and two Delay options, with the Rate, Depth and Morph controls affecting speed, depth, wave shape, pitch, feedback, delay time and more. The Mod 2 Bank gives you access to Phaser, Chorus, Vibrato, Flanger, Rotary, Digital Delay and two Reverb modes, with the three aforementioned knobs controlling everything from tone to blend to decay to depth to speed and more. These banks can also be used independently or simultaneously, making for thousands of combination effects waiting to be explored.
Controlling these effects is a cinch with the Super Mod Workstation as well. An External Tap input controls the tempo rate on Mod Bank 1, while an Expression pedal input adjusts the rate on Mod Bank 2. Stereo outputs give your rig a full, rich and deep sound, and an internal switch even lets you select Dry Out Only on the second output if needed. All of these options and settings work together in musical bliss to create a wide range of sounds, and a practically endless array of gorgeous tones.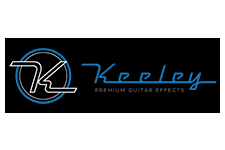 Inspired by vintage brown face amps, Uni-Vibes, the 30ms Automatic Double Tracker and more, the Super Mod Workstation is a bit overwhelming at first, but the journey to figure out how it can work for you is all part of the fun. As a bonus, Keeley and crew have made these workstations EXTREMELY pedalboard friendly, giving you access to many, many different effects, but able to fit them all onto a Pedaltrain Nano if need be. Kudos as always to Robert and the Keeley Electronics staff for another groundbreaker pedal series – be sure to check out our review and demo for their Delay Workstation here as well, and be sure to watch our special TWO PART demo video below!
GET EXCLUSIVE UPDATES, CONTEST INFO, SEE OUR LATEST DEMO VIDEOS AND MORE: