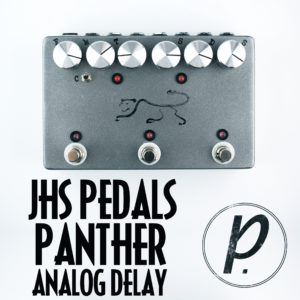 Happy Halloween, everybody! Today we're going to take a look at a revolutionary delay pedal, one that's no longer in production, but set the tone for echo effects worldwide. The Panther from JHS Pedals is a BIG, bold, fat-sounding, lush delay pedal, complete with a ton of tones and options, making it perfectly customizable for what you need it to do. Lots to go over here, so let's jump right in!
Feedback, Mix and Time make up the first portion of the control section for the Panther, as you'd expect to find on most delays. The Feedback will get pretty wicked when cranked up, and the delay time itself goes up to ONE FULL SECOND, a feature not common in analog delays, which is nice. There's an entire Modulation section present as well, with Speed and Depth controls to give you as much or as little tape delay warble and wackiness as you can handle. It's like having an upgraded Memory Man right at your fingertips.
A Subdivision selection knob lets you choose between eighth, dotted eighth, quarter and triplet divisions, for a slew of choices in your echo configuration. On-board and external Tap Tempo functionality make setting your delay time a cinch, and there's also a Chirp toggle switch, which offers the choice between bright and chirpy delays, or dark and more in-the-background types of echoes. For all you adventurers out there, a footswitchable Effects Loop lets you add in other effects to alter the tone of the repeats, opening up even more possibilities.
One more nice feature here is that all of this madness is run on simple 9V power, so you can use just about any power supply to make it fit right in with the rest of your rig. Being a true Bucket Brigade delay like the Panther is, you get sounds and tones that are hard to replicate elsewhere, and they come in big waves here. Perfect for the analog delay junkie in us all, this massive silver box from JHS Pedals is ripe with exploration and sonic adventure – if you get bored using this pedal, maybe you're not doing it right. Be sure to check out the demo video below, where we try to give you a taste of what powers the Panther is capable of unleashing…
GET EXCLUSIVE UPDATES, CONTEST INFO, SEE OUR LATEST DEMO VIDEOS AND MORE: